Bohol Travel - ZooColate Thrills Another Reason to Visit Bohol

Aside from marvelous white beaches, old churches and ancestral houses, there are a-thousand-and-one other reasons to visit Bohol.
Bohol now has a new adventure theme park that offers captivating attractions for everyone. It is called Zoocolate Thrills!
The theme park is located in Barangay Gotozon in Loboc, Bohol operated by Zoomanity Group under the Yupangco Group of Companies.
Zoomanity Group operates other parks like the amazing Zoobic Safari in Subic Bay; Zoocobia Fun Zoo in Clark, Pampanga; Residence Inn and the Paradizoo in Tagaytay; and the Z Planet and Virtual Zoo in Manila.
"Hello Tiggy" will welcome tourists once inside the Zoocolate Trills and one can get a chance to show their "tiger look" on a photo opportunity with 'Tiggy' the tiger.
One can have different animal encounters at the facility such as feeding the biggest bird alive – the ostrich; love-birds feeding; greyhound walking; a rare encounter with the bear cat or wrap yourself with a large Burmese python.
Its mini zoo also features the Philippine eagle, owl, monitor lizards, iguanas, civet cats, tarsier and other wild animals.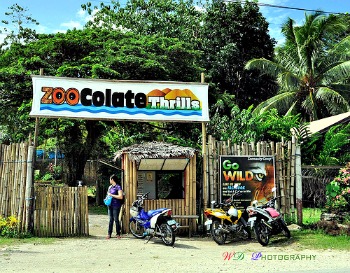 ZooColate Thrills via Wgraphix Nphotography
It also offers tram rides, horseback riding, zip line, and a river cruise is also provided for those who want to explore the famous Loboc River.
The park has a replica of Chocolate Hills to give a glimpse before going to the real one.
The future plan is to have animal shows, said operations manager, Grace Nicolas.
"In rediscovering the famous Chocolate Hills and our Loboc River, our team offers different activities for this year and the developments we have to sustain and continuously develop a world class Zoocolate Thrills at Bohol with a tour to view the biggest zoological park and international standard developments," said Nicolas.
Now already set up through a joint venture with the Sumampongs of Loboc, Zoocolate Thrills rises in the Sumampong Farm in Gotozon, Loboc, Bohol.
Operating under the 4Es philosophy (education through flora and fauna encounters; enrichment and interaction in the parks; environmental conservation through biodiversity and exhibits of natural flora and fauna in simulated habitat; and entertainment through amusement and adventure), the Zoomanity Group envisions to be the top zoo themed park in the country. (mbcn/Elvira C. Bongosia-PIA 7, Bohol)