Cagayan Valley Goes for Image Branding to Attract More Investors and Tourists

More investments in Cagayan Valley are expected to come in with the recent launching of its image brand featuring its varied potential as an investment hub and as a distinct growth area in the country.
Tagged as "Bountiful Cagayan Valley Region," the image highlights abundant natural resources of the five provinces in the region, namely, Batanes, Cagayan, Isabela, Quirino, and Nueva Vizcaya.
"The new image brand for Cagayan Valley is in response to a need in distinguishing itself from other regions particularly in effectively marketing its investment potentials and opportunities locally and internationally. With this image we hope to attract more investors for the region," said Maryanne Darauay, acting chair of the Regional Development Council(RDC) and officer-in-charge of the National Economic and Development Authority(NEDA).
Cagayan Valley's image brand features the rich ecological resources and biodiversity, intertwined with the cultural values and heritage of Batanes province which also landed in the list of World Heritage Sites of the United Nations Educational, Scientific and Cultural Organization (Unesco) under the cultural landscape category.
Batanes also prides itself of its 430,000 hectares of land area suitable for corn and rice production and high value crops, livestock industry, forest cover, and rich marine resources.
Cagayan province, which host the Cagayan Special Economic Zone and Freeport (CSEZFP), showcases its agricultural lands, fishery resources, coastlines, and eco-tourism sites.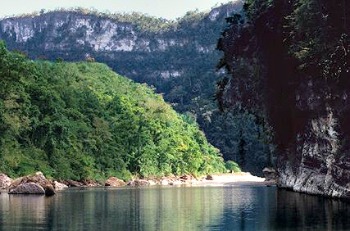 Cagayan Valley - Sierra Madre River via www.travelphil.com
"With rich natural resources and excellent communications and infrastructure, the place has become a viable location for most enterprises and business ventures," Darauay explained.
The CSEFP, she said, is an emerging premier techno-zone not only in the country but in the Asia – Pacific region as it grows with its Business Process Outsourcing (BPO) locator.
As the country's top grain producer, Isabela province offers its 13 percent production rate for rice and 16 percent for corn, 60 percent protected forest land and 38 percent for timber production.
Isabela is proud of its tourism and industrial potentials due to its abundant fishing and aquatic resources and mineral reserves.
As a watershed haven for Cagayan Valley, Nueva Vizcaya province's tropical climate, majestic mountains and forest reserves make it an ideal eco-tourism destination. It has 71,590 hectares of fertile land and considered as a major agricultural producer in the region with its rice, corn, high value vegetables and fruits and root crops.
Quirino province's investment landscape consists of 80,000 hectares of agro-forestry and tree plantation areas. It offers abundant raw materials for plantation specie and Community – Based Forest Management(CBFM) for the furniture industry and communal grazing areas for livestock production.
"Our location in the northeastern tip of the country make our region the gateway of trade in South East Asia. With our potentials, we can be an ideal place for industrial and commercial investments and expansions," Darauay added. (Benjamin Moses M. Ebreo-PIA 2, Nueva Vizcaya)