Bulalacao, the Hidden Gem of Oriental Mindoro

About three to four hours of land travel from Calapan City in the south of Oriental Mindoro is the town of Bulalacao. Considered a fourth class municipality of 30,188 people (2007 census), its rustic beauty remains unspoiled.
Bulalacao is a sanctuary for stressed city dwellers looking for a respite in an idyllic environment.
The town, whose name according to myth was derived from a bird of death known to locals as "bulalacao", offers a variety of attractions for both adventurous and alternative tourists in Oriental Mindoro.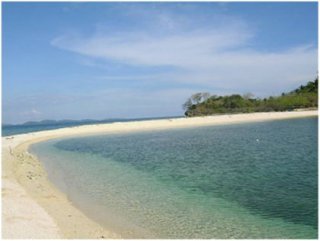 Bulalacao, Oriental Mindoro
It has numerous beaches, waterfalls, a lake, caves, and rain forests that are home to a wide array of flora and fauna.
With 13 outlying islands, island hopping is one activity visitors enjoy most in Bulalacao. From Bulalacao Bay, motor boats can be rented from P600 to P1,000 per day.
Alibatan, a five-hectare island southeast of Poblacion, is noted for its white sand beach. Big rocks abound and its southern part is mountainous. A lake, almost half a hectare in size, can be found in the middle of the island.
The place serves as a hatching ground for seagulls and turtles. Corals and oyster are abundant in the waters around Alibatan, which is also called "Target Island" because of bombing exercises made by the American soldiers in 1946.
Northwest of Alibatan is Sibalat Island and to its east is the Bating peninsula. Like Alibatan, Sibalat boasts of white sand, big rocks, corals, shells, and oysters. It is an ideal hatching place for sea turtles. This island measures 2.5 hectares and the surrounding water is suited for fishing and scuba diving.
About 1.5 kilometers south of Barangay Milagrosa lies the 12-hectare Aslom Island, which is more or less similar to Alibatan and Sibalat in its features. Half of the island is planted with coconuts and it is a safe haven for ships during storms. A big cave can be found in the southeastern part of the island.
Maasin Island is situated in the southeastern part of Bulalacao. It is about seven kilometers from Poblacion. The middle of the cave shaped island is covered with coconut trees. A 30-meter deep channel lies between this island and Tambaron Island.
Tambaron is a 160-hectare rocky, mountainous island separated by a channel from Barangay Balatasan. About 40 kilometers away from the town proper, this largely cogonal island is a natural habitat of forest animals like wild pigs and monkeys.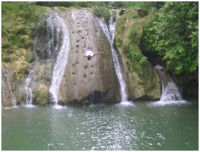 Bulalacao, Oriental Mindoro
In the northern part of Bulalacao lies Suguicay. A part of Barangay San Juan, this oblong-shaped island is separated by a channel. Suguicay is planted with coconuts and mangroves at both ends. The more or less 10 hectare-island abounds with corals and different kinds of shells.
North of Buyayao Peninsula is the island of Buyayao. Big snakes called "Sobre Kama" are found in "Malaking Yungib" (Big Cave) and in the mountain. The water around is suited for fishing.
Buyayao Island is a 206-hectare forest reserve which is home to more than 500 forests species. It has caves serving as sanctuary for different species of wild animals like squirrels, deer, wild chicken and bear cat. It has three sources of potable water.
Liwagao, an island under territorial dispute with the Municipality of Caluya Antique, lies in the southeast portion of Bulalacao. It is approximately 100 hectares in size with a long stretch of white sand. It has different types of quality pebbles, superb coral formations and a diverse marine ecosystem. Its northeastern portion is thickly covered with coconut and commercial trees. Coconut crabs abound on the island. It is an ideal hatching ground for sea turtles.
Up-trekking to about 1.5 kilometers from Poblacion is the 64-hectare Tree Park operated by the municipal government. The area is ideal for camping, hiking and trekking. From there you can have a breathtaking view of Bulalacao Bay and the surrounding islands.
Bulalacao is only a couple of hours by boat from Boracay and also about two hours from Manila by plane and road travel via San Jose in Occidental Mindoro.
But like Boracay 25 years ago, the amenities normally found in famous tourist spots in the Philippines are absent.
Some resorts have cottages. But there are no hotels, only inns and houses where spare rooms have been converted to cater to a steadily growing number of visitors, eager to explore this gem of Mindoro before the world discovers its unblemished beauty.
In the end, however, this low impact tourism model could prove to be more self-sustaining.
Bulalacao, Oriental Mindoro is still virtually untouched and a must-visit for the adventurous and eco-minded tourists. (PIA-4B)