Threading  the Foot Trails of  Nueva Vizcaya

They used to be the only access of indigenous tribes to reach their lowland friends and relatives but these mountain trails have become links to preserve peace and culture.
"These mountain trails serve as our old shortcuts in reaching our destinations in lowland municipalities by hiking and we are happy that we are now being visited the other way around by our fellow Novo Vizcayanos," said Dalmacio Ngayusan of sitio Kakilingan, barangay Buena Vista in this town.
Footpaths or mountain trails which are a plenty in Nueva Vizcaya were used by indigenous tribes since the early 50s to hunt for wild animals in dense forests and in reaching their neighboring tribes.
These foot paths were originally made and developed by indigenous tribes who had migrated or had been living in dense forests of the province's mountains.
"These mountain trails serve as our shortcuts in reaching our destinations in lowland municipalities," Ngayusan added.
But for Gary Longboy, an extreme bike enthusiast, mountain trails in Nueva Vizcaya are attractions for adventure biking and hiking.
He said Nueva Vizcaya's mountain trails are best suited for biking as they are characterized by various rough and rugged terrains and sometimes muddy during the rainy season.
"These condition of our trails in Nueva Vizcaya are best paths for our regular biking. Through this hobby, we are also bringing this sport and our culture closer to our fellow Novo Vizcayanos," he said.
Bike enthusiasts who regularly visit upland and remote villages were also treated with native food of the indigenous peoples such as the Bugkalots, Kalanguya, Ifugao, Kankana-ey, Isinai and Gaddangs, among others.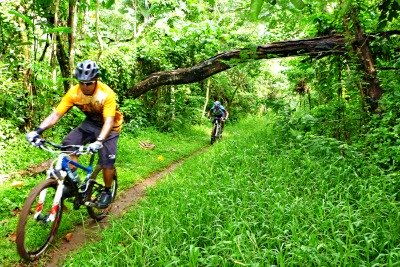 Longboy added that cultural visits to upland villages have also resulted in a closer communication between lowland and upland Novo Vizcayanos.
"We share news in our communities and how it will affect their lives in the mountains. We share familiar people or relatives, our local officials and programs and projects of our government and we report their situation to proper and concerned authorities," Longboy said.
Mountain biking has become a growing craze and hobby among health conscious buffs. High-end mountain bikes which are built for extreme terrains can be bought from P20,000.00 to P100,000.00 depending on its accessories and custom built designs.
In fact, the Provincial Tourism Office(PTO) estimated the number of mountain bike enthusiasts in the province at more than 500.
Aside from the bikers' regular adventure ride on their own choices of trails to explore, the provincial government is also conducting a yearly biking competitions to promote health and local tourism in the province.
"Bike enthusiasts usually explore and visit mountain trails leading to waterfalls, rivers, dense forests and our caves. They do this to have an adventure with their friends," said Sharen Bonayon, a museum researcher of the PTO.
With the present technology, bike enthusiasts also serve as promoters of the province's local tourism attractions by uploading their photos and videos to the social media, thereby gaining more popularity for the province.
The growing craze of mountain biking in Nueva Vizcaya can be traced to the province's legends of the Marlboro Tours cycling competition such as Lupo Alava, Domingo Quilban(now a retired police officer), Ariel Marana( who is based in the United State) and Carlo Guieb, a jeepney businessman.
Alava for one has his own share in popularizing the sport. After earning the Rookie of the Year title in the 1980 Marlboro Tour ng Pilipinas and regular participations in the annual cycling series from 1980 to 1985, he finally founded cycling and mountain biking clubs in Diadi to help and support local enthusiasts.
And he only started mountain biking from his native town of Bagabag in Nueva Vizcaya to Lagawe town in Ifugao or to Santiago City in Isabela. (BME/PIA 2-Nueva Vizcaya)