Filipino Bold Actors - Bold Actors in the Philippines and Pinoy Hunks

Filipino bold actors continue to test their acting capabilities in Philippine cinema
Philippine cinema is possibly the latest art form in the country. Philippine cinema has evolved from the silent movies to the talking version and from black and white to colored film.
This popular form of art slowly gained the Filipinos approval and adoration. Just like any other art form, it mirrors Philippine society. Additionally, actors of different movie genre like Filipino bold actors and Pinoy hunks rise to fame and some to shame.
The Filipino film industry just like any film industry was able to produce numerous films which talk of contemporary social events.
Films with a sexual theme are often considered controversial.
However, this does not stop film producers and directors from traversing this genre which includes soft porn films.
Although it is not often talked about, these soft porn films are likewise recognized and accepted by film audiences. And for some Filipino bold actors, it is a stepping stone to stardom.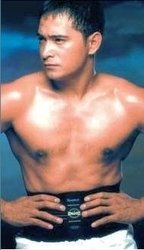 Philippine cinema is equally known for its talented actors and actresses and most of them have well-sculptured and tone bodies, oozing with sex appeal.
From the 1970s up to today, these Pinoy hunks are a staple in the adult movie industry and print media as well.
Bold actors in the Philippines, like their lady counterparts, are called bold actors, bomba actors, ST (sex-tripping) actors among many other names.
Additionally, these Pinoy hunks embody the matipuno (muscular, well formed physique) and matikas (graceful) stand of the typical Filipino male.
When people talk about Filipino bold actors, George Estregan easily comes to the mind of film enthusiasts. He is notoriously known as the "Penetration King" of Philippine adult movies.
He was active in the movie industry from the early 60s until the 90s. He transcended his bold actor image upon bagging the prestigious FAMAS award for best actor in 1972 for Sukdulan and 2 best supporting actor award for the years 1978 and 1980.
His demise in 1999 has been rumored to be caused by HIV, but up to this date this is still an unverified rumor.
Vic Vargas is perhaps the most recognized sex symbol of the 1970s. Considered as the prototype he-man of Philippine movies, Vic Vargas starred in more than 60 movies between the late 50s on to 2002.
He starred in memorable movies like Ang Pinaka-Magandang Hayop sa Balat ng Lupa opposite 1969 Ms. Universe Gloria Diaz and the gorgeous Elizabeth Oropesa.
The 1980s ushered in the pretty boy looks of Patrick dela Rosa, Edgar Mande and Lito Pimentel. These three pretty boys appear together in the 1983 Mario O' Hara movie Uhaw sa Pag-Ibig. Dela Rosa starred in several bomba (adult) films like Shame and the 1984 flick Sinner or Saint opposite Claudia Zobel.
Dela Rosa continued to be active in the movies often portraying antagonist roles in the 90s and once in a while appeared in TV shows.
Currently, he is behind bars on alleged rape charges. On the other hand, Lito Pimentel is still active on TV shows, while Edgar Mande faded to obscurity.
The 1990s welcomed the Adonis physiques of Cesar Montano and Gardo Verzosa. Owing to this, they both played the handsome wooden statue Machete.
Both actors successfully transcended their bold actor image, Montano, now an award winning actor/director, while Verzosa because of his acting talent is now one of the most in demand character actors in the industry. Both are still active in TV and movies.
The decline in the Philippine movie industry due to film piracy shifted the visibility of Pinoy hunks to fashion show events as well as magazine and billboard covers of major clothing brands.
Many of them grace the runway in their underwear and the famous heartthrobs of the day get to pose on gigantic billboards along the city's major roads. Meanwhile other Filipino bold actors in the Philippines continue to test their acting capabilities in the up and coming indie cinema of the country.