Philippine Drama - Pinoy Channel

Philippine drama and soap operas
Filipinos live a laid back kind of life and oftentimes you don't see that they have problems which they carry around with them. It's their positive approach towards life that makes them virtually invulnerable to life's series of challenges.
At dinner, usually from 6 to 7 in the evening, family members assemble around and eat together while a light conversation is going on. Watching the news during dinner time is also a very common practice to receive updates on the current events nationwide and around the world.
Right after dinner, they will usually gather in the living room and watch a Pinoy channel showing a TV series and Philippine drama, commonly known as soap operas in the country.
Watching each episode of a Philippine drama has become part of the everyday life of many Filipinos. Soap operas are usually based on social realism of a typical life of a Filipino.
The sentimentalization of the life of the main characters of the TV series is hugely followed by millions of fans in the Philippines and even abroad.
While most, if not all soap operas, have received a positive response from the viewing public, there are those which flourished and have gained an enormous number of followers. Some of the most popular soap operas in the country are:
My Binondo Girl - This Pinoy TV series is about the life of Jade, a first-born daughter of a Chinese family. In Chinese culture, a first-born is a sign of misfortune so her family plans to give her away to the orphanage. To gain the love and affection of her father and to convince her father to set free her mother and grandmother who are jailed, Jade has to pretend to be Yuan – the dead son of her mother whom his father has no knowledge of. This Philippine drama is a combination of romance and comedy that suits the taste of millions of fans.
Budoy - This Philippine drama revolves around the life of Budoy who is a product of artificial insemination and is suffering from Angelman Syndrome. He comes from a family of doctors. Later, his grandmother gives him away to save the name of the family from the shame of having a mentally challenged family member. The viewers can't get enough of the TV series with all the twists and turns and the interesting storyline.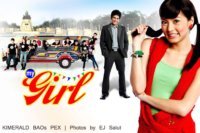 My Girl - A mixture of romance, comedy and drama, My Girl is one of the best Asianovela TV series remakes produced by ABS-CBN. This story of rich boy meets poor but hardworking girl claimed a rabid viewership and it was the number one Philippine drama of Pinoy channel ABS-CBN at the time that it was aired.
Pangako Sa 'Yo or The Promise - The story starts with the love story of Amor and Eduardo. His mother opposes the relationship since Amor was just a maid and also because she wanted Eduardo to marry Claudia for political reasons. Eduardo's brother, Diego, who has a crush on Amor, was asked by Benita to separate them. Eduardo, on seeing Diego trying to rape Amor, mistook it as them having a relationship, and is heartbroken and decides to marry Claudia. This Philippine drama not only gained nationwide recognition but was also released to more than 10 countries abroad.
Sana Maulit Muli - This Philippine drama is about two young lovers who discover how true love can overpower fate and destiny. Small-town girl Jasmine Sta. Maria and Travis Johnson, the illegitimate son of an American soldier, both meet as stowaways on a ship sailing from Cebu. They promise to write each other as they were separated but this promise is intercepted as soon as Camille Soriano deceives Travis by writing to him as Jasmine. In time, Travis' father dies and their family leaves for the Philippines only to meet up with both Camille and consequently Jasmin.
Magdusa Ka - The story of Pablo Gomez's Magdusa Ka revolves around the life of Christine Salvador, a poor young waitress raised with love and care by her mother, Victoria. A loving daughter, Christine dreams that one day all the sufferings she and her mother currently endure will end. And she wishes that she will be able to do so, with the help of her boyfriend Rodolfo "Rod" Henson. She sees a ray of hope when she discovers she is actually the daughter of a Doliente, a powerful, rich family. Her mother prohibits her from seeing Rod and to go to the Doliente mansion. Christine disobeys her mother because she tells herself that the financial aid from the Dolientes will help their family. But as time passes, she is only fooling herself. She is now enjoying the lap of luxury. When she realizes that this life of luxury only brought her more pain, she tries to go back to her mother, but her mother closes her doors to her. Christine must learn to suffer with the consequences of her actions and in the process mend the things she unintentionally destroyed.
With the soap operas making a strong impression on the viewers, TV networks in the Philippines are continuously producing world-class TV series that are not only shown locally but also abroad. (Jade Sanchez)