Pinay Celebrities - Pinay Actress and Hot Pinay

The country's top Pinay celebrities highlight the movie industry in the Philippines
Ever since the 1960's, admired Pinay celebrities have been enjoying their popularity not only in the movies but in endorsing various products as well. Recently, the number of movies made is declining because of the uncontrollable rise of piracy. Some movie-goers choose to buy pirated ones to somehow save a penny. Because of this, Filmmakers are continuously improving the quality of the movies created to entice the public to watch them in theaters.
Pinay celebrities are admired for their beauty, personality, and talent. Over the years, fans have been vigilant as to the activities of their idols in and out of showbiz. This has put additional pressure on Pinay celebrities as they are being looked up to by their fans. Some of the most popular Pinay celebrities in the Philippines today are:
Marian Rivera
In 2006, Rivera signed a contract for Regal Films. She was part of the cast of the horror movie, "Pamahiin (Superstition)" along with Dennis Trillo and Iya Villania. In 2008, Rivera starred alongside Richard Gutierrez in the romantic comedy "My Best Friend's Girlfriend" where it grossed PHP 107 million. In 2009 she then played the role of Nieves, The Engkanto Slayer in a title episode of "Shake, Rattle & Roll X," a film festival entry. She also worked with singer and songwriter Ogie Alcasid and the "Desperadas" cast, for the sequel, "Desperadas 2." She also starred in the horror movie, "Tarot," along with Dennis Trillo and Roxanne Guinoo.
Angel Locsin

Locsin first starred in films such as "Ping Lacson Supercop," "Mano Po 2," "Kuya" and "Singles." In 2004, Pinay actress Locsin starred in the films "Mano Po 3" and "Sigaw" which were both included in the 31st Metro Manila Film Festival. In 2005, GMA Films released the film, "Let the Love Begin," which grossed PHP 122 million at the box office. She also brought back her role as Alwina in "Mulawin: The Movie" with Richard Gutierrez. In early 2006, Locsin starred her second valentine movie film with GMA Films, "I Will Always Love You," with Richard Gutierrez. In 2009, Locsin starred in her first movie under Star Cinema, "Love Me Again."
Bea Alonzo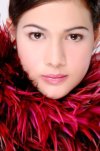 In 2003, at age 15, Alonzo joined the TV drama "Kay Tagal Kang Hinintay." She later appeared in soap operas like "It Might Be You," "Ikaw Ang Lahat Sa Akin," "Maging Sino Ka Man" and "Maging Sino Ka Man: Ang Pagbabalik."
June 2008, Alonzo released her debut album, "The Real Me," under Star Records. It was also in mid-2008 when it was announced that Alonzo was to play the leading character Betty Pengson in the TV sitcom "Yo Soy Betty La Fea" originally from Colombia. The Philippines version was entitled "I Love Betty La Fea." The show premiered on September 2008 in the prime time slot and ran for six consecutive months.
Heart Evangelista
Evangelista was first discovered by a commercial agent while at a mall with her sister. She signed up with Star Magic and was part of "Star Circle Batch 9." Evangelista appeared on "Hiram," for which she earned a Star Awards Best Actress nomination for this series.
She transferred to GMA Network due to her father's decision, which she announced on April 23, 2008. She signed a two-year exclusive contract and starred in the series "Codename: Asero."
Evangelista played the title role in "Ay Ayeng," a film based on the indigenous Ifugao life in Mountain Province, which premiered in Hawaii, on July 14, 2008. The movie was adapted from "Maestra Ester," a novel by Abdon Noviza and Lica Lazaro. She won a FAMAS Best Actress trophy in 2009 for her portrayal of the role Ayeng.
Evangelista hosts the musical variety show on GMA, Party Pilipinas.
Kim Chiu
Chiu was the first winner of "Pinoy Big Brother: Teen Edition" and is currently part of ABS-CBN's Star Magic.
In the six months following after her winning, Chiu together with on-screen partner, Gerald Anderson, appeared together in several ABS-CBN network shows, and appeared in their first film, "First Day High." Chiu and Anderson also appeared in "Love Spell" and "Aalog-Alog."
In 2007, Chiu and Anderson starred in the movie "I've Fallen For You" under Star Cinema. That same year, Chiu starred in her first primetime TV series entitled "Sana Maulit Muli" alongside Anderson. She was then cast in Philippine adaptation of "My Girl," a Korean series.
In January 2009, Chiu starred in the TV series entitled "Tayong Dalawa" which gave Chiu several acting awards. She also became part of Star Cinema's official entry to the 2009 Metro Manila Film Festival, "I Love You, Goodbye." Chiu started performing as a regular on ASAP XV in 2006.
Pinay celebrities in the Philippines are still enjoying the limelight not only in movies and endorsements but in television soap operas as well. Major TV stations are in a constant struggle to produce the finest soap operas and to utilize the most popular Pinay celebrities under their management. (Jade Sanchez)