Binatang Pinoy - Young Filipino – Ready to Succeed

Binatang Pinoy, or the Young Filipino is utilizing technology to share ideas
Today's young people are tomorrow's leaders and the future of the world. The survival of the living human inhabitants of the earth relies on the passing of the torch from generation to generation.
We are going to leave this planet and the new generation will be tasked to continue what has been started. They will be here to serve and protect our planet, nurture our resources, and act together with the rest of humanity to continue the cycle of life.
In the Philippines, the younger generation is fully aware of the responsibility that they are going to carry with them in the future. The government, on the other hand, has extensive programs for the youth to keep them well-informed of the socio-economic situation of the country and the legislations that protect them.
The government has all-encompassing and integrated programs to enhance the intelligence and skills of the young Filipino or binatang Pinoy, to develop their individual talents, to ensure that they are well-prepared for what lies ahead of them.
The Department of Education is responsible for the management and governing of the system of basic education in the Philippine and they too have their own incorporated programs that are being utilized right now by public and private schools nationwide.
There are also organizations of young professionals in private and public sectors that are active in civic involvement, skills enhancement, social awareness, and volunteerism.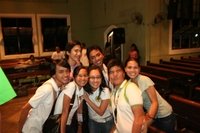 Binatang Pinoy - via oppositeofapathy.wordpress.com
The youth in the Philippines are very dynamic not only in schools or in different events from around the country; they are well-adapted also to the modern use of technology. They are very active in social networks, internet blogs, gaming, texting, and chatting amongst other things.
In fact, the Philippines is tagged as the Social networking capital of the world. They are being empowered through the support of their family, the efforts of the government, and their communication with one another to make decisions in addressing issues that involve the community and the government.
The majority of the youth in the Philippines are very active in voicing their concerns involving topics about almost anything. With the fast-paced innovation of social media, the youngsters can now share their ideas, learn from the ideas of others, and interact with each other to further their knowledge and deepen their views.
The new generation in the Philippines has what it takes to handle the future with ease. With all the available resources needed to hone their skills, the guidance from their family and the support of the government, the future is bright.
Being optimistic and family-oriented, the young people in the Philippines are not giving in to the pressure, instead, they carry the responsibility with a smile and a positive outlook. The binatang Pinoy or young Filipino are determined to gain as much knowledge and experience as possible, and they will take care of the future successfully to make the preceding generation proud of them. (Jade Sanchez)