Philippines Christmas is the Most Anticipated Fiesta of the Year

Christmas in the Philippines is a time for families. It is a time of gift giving and a time for warm friendships.
Because gift-giving and many other aspects of the Christmas festival are involved, heightened economic activity among both Christians and non-Christians during the holiday has become a significant event and a key sales period for retailers and businesses.
The economic impact of Christmas is a factor that has grown steadily over the past few centuries in many regions of the world including the beautiful islands of the Philippines.
To most Filipinos, Christmas is the most anticipated fiesta of the year and is celebrated accordingly. The splendid climate of this tropical island nation, the abundance and beauty of its flowers, and lovely landscape, its multitude of culinary delights, and above all its warm-hearted people with their true devotion to family and faith all contribute to a holiday celebrated in the true Philippines fiesta tradition.
The Philippines is known as the "Land of Fiestas," and at Philippines Christmas time, this is especially true. Filipinos are proud to proclaim their Christmas celebration to be the longest and merriest in the world. It begins formally on December 16 with attendance at the first of nine pre-dawn or early morning masses and continues on non-stop until the first Sunday of January, Feast of the Three Kings, the official end of the season.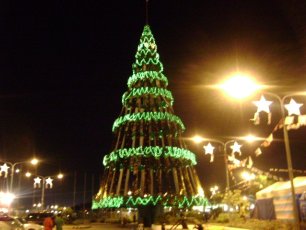 Philippines Christmas Tree in Cebu City
Christmas Eve is often celebrated by families at home enjoying a Philippines Christmas dinner at midnight. This tradition is called Noche Buena. It is a time for thanksgiving and a time for families to be together. Friends may also be invited to the Noche Buena and this is often a great honor. Gifts would usually be given during the Noche Buena or Christmas morning.
The Noche Buena is very much like an open house celebration. Family, friends, relatives, and neighbors drop by to wish every family member "Maligayang Pasko" (Merry Christmas). Food is in abundance, often served in buffet style. Guests or visitors partake of the food prepared by the host family. Among the typical foods prepared for a Philippines Christmas are: lechon (roasted pig), pancit, barbecue, rice, adobo, cakes (Western and native rice cakes), lumpia, etc. There is also an abundance of beer, wine, and liquor, which makes the celebration of Christmas indeed intoxicating!
The streets are well lit and are full of activities. The children run in and out of the house to play, to eat, and to play again. The Philippines Christmas Eve gathering provides an opportunity for a reunion of immediate and distant family members. Some families may choose to exchange gifts at this time; others wait until Christmas day.
Caroling can also be heard during the Christmas season in the Philippines. You'll get to see a gang of little kids walking from house to house singing the old time favorite Filipino Christmas carols.
Employees in the Philippines are usually treated to a long five-day vacation during the Christmas week since some employers would want their employees to spend time with their families. This is the time also for employees to travel to their provinces and celebrate Philippines Christmas together with their loved ones.