Native Tribe Bagobo, Philippine Cultural Village Showcased in Tibolo

The Bagobo native tribe and the Kalimudan Cultural Village , located at Barangay Tibolo, Municipality of Sta. Cruz , Davao del Sur, Philippines, best represents their genuine desire to unify their people and preserve their culture.
This desire has become so moving that they have built a growing tribal village with landscapes and lifescapes of the ancestral homeland of the indigenous peoples.
Eight simple vernacular structures are humbly built to accommodate visitors who wish to immerse themselves in the community. For just P50 per day per person, you can already spend the day with the Bagobo people and safely sleep in a house similar to theirs.
A long house, built for special activities of the "lumads" like assemblies, weddings, meetings has become a favorite convention area for corporate activities like seminars and workshops.
Aside from its vernacular structures, visitors flock to this village because of the welcoming tribal people who share with them their authentic traditions and practices unknown to many.
A common food served to guests is "lyurot" or "lotlot", a bamboo cooked food of the native. Guests craved for more of the tasty chicken tendered by its own sauce and steamed inside bamboo.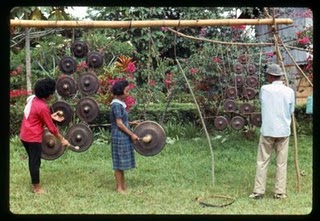 Bagobo Native Tribe - Philippine Ethnic Groups
Bagobos, too, show craftsmanship with the way they make tribal accessories and clothing. One could easily think of discipline and patience with the intricacy of their designs. Vibrant colors chosen and used in their products reveal a passionate and fun-loving Bagobo.
Aside from farming, this tribe has also appreciated the value of economics as they create other jobs from every opportunity that comes their way.
With the establishment of the tribal village, Bagobos offer to cook ethnic food for the visitors for a reasonable fee. From this experience, visitors get to taste native delicacies and at the same time help the tribe earn from this particular skill.
As visitors leave the village, they bring with them a complete experience from deep appreciation on traditional architecture, to authentic Bagobo food, to language learning, and acceptance of the distinct and unique culture of the Bagobo tribe.
To support this cultural village, the Department of Tourism (DOT) has offered tourists immersion packages in the Tibolo Cultiral Village . Known as Volun-Tourism for cultural survival, this package promotes learning experiences for both the traveling tourists and the local communities. It ensures that both parties are mutually benefited from such cultural exchange.
One option offered is the 3-day immersion known as the Native Tribe Cultural Journey. This package facilitates a quick cultural orientation to volunteer-tourists on the landscapes of upland dwellers. Other options include a Cultural Exchange intended for six days and a Cultural Exposure for 12 days. These packages are open all-year round for small and large group tours. (PIA XI/Mai Gevera)