An Ibanag Offering to the World; Miss Supranational
She talks like a singing bird. She gathers asimmawa (Ilocano, abal-abal; Pilipino, salagubang) and eats them, too. She is Miss Supranational 2013. An Ibanag.
For Mutya Datul, 21 years old of the remote village of Calamagui Norte, Sta. Maria, Isabela, her being the first Asian to snatch the international beauty title is a long way from her humble beginnings to her joining the fabulous world of beauty pageants.
Neighbors in laidback Sta. Maria town claimed Mutya to be a veteran in beauty contests and was determined to make it to the international scene. Like the rest of young girls in her community, Mutya claimed she has been into harvesting corn and gathering asimmawa (edible beetle).
Her mother Merlie, 50 years old and part recipient of her bounty of PhP 1 million equivalent from her winning in Belarus (part of the former Soviet Union), said there have been a horde of barrio lads who tried to win her young hand but it was Mutya's father Wilfredo, a police sergeant who put his foot down.
The third in a brood of six, her life can likewise be likened to the Cinderella story where the fairy godmother came, at this point, in the form of the Miss Supranational and everything turned into magic.
Viewers on social media and national televisions lapped her story as the woman who lived in a bamboo shack with no amenities of modern living.
When she declared on national television that she has no money to buy food when she adventurously ventured to go to Manila to search for her destiny, the whole nation noted her humility.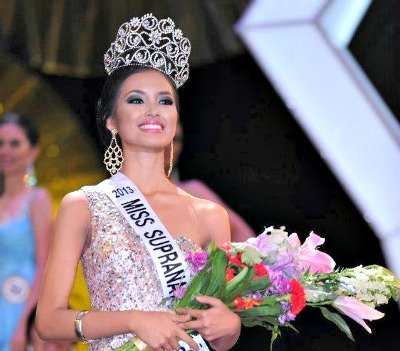 Mutya Datul, Miss Supranational
A graduate of a two-year basic computer program course, Mutya opted to stop schooling the following year to attend her nine-month training to compete in the prestigious 2013 Binibining Pilipinas pageant where she emerged Miss Philippines - Supranational.
But the girl is no stranger to pageants. She virtually won all the locally available beauty titles since her secondary days.
Despite these earlier successes, the virtues of the Ibanag indigenous peoples are firmly intact in her system. She is proud to be an Ibanag whose male population are the tallest among all indigenous peoples in the country.
For her, family comes first. Aside from giving money to her mother who is afflicted with acute anemia, she shared her bounty to the other siblings for their college education.
Mutya became emotional when she returned to her Alma Mater, the Isabela State University-Ilagan campus.
"Our full obedience to our parents' desire to succeed is the best advice I can give," Mutya told her classmates.
Two major television networks have signified their interests to get her services but have to wait until she fulfills her contract with Supranational organizers.
Whatever happens to her budding career, one thing is sure: the entire Ibanag world will be watching her closely. (PSL/ Merlito G. Edale, Jr.-PIA-2, Isabela)