Independent Filipino Films ; 'Busong' Takes Grand Prize at National Geographic Film Fest

"Busong," a critically-acclaimed Filipino independent film on the vanishing Palawan tribe in the Philippines, won the grand prize in the National Geographic Society's All Roads Film Festival in Washington, D.C.
In a statement, the Department of Foreign Affairs said "Busong" ("Palawan Fate") according to the Philippine Embassy in Washington, D.C., directed by Aureus Solito, bested 25 other indigenous film entries from all over the world to win the Merata Mita Award named in honor of a noted Maoiri filmmaker.
"It is an honor to receive the Merata Mita Award which I dedicate to my mother and to my tribe, the Palawanon," said Solito after receiving the award from All Roads Film Festival director Francine Blythe.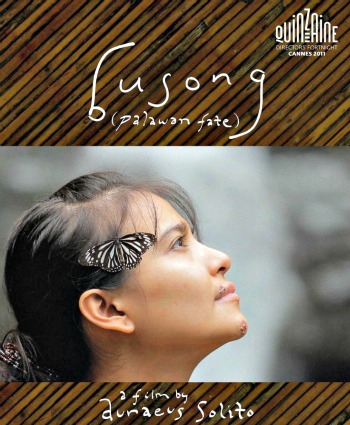 The awarding ceremony was held shortly before 'Busong' was screened at the Grosvenor Auditorium at National Geographic's headquarters on Thursday, 27 September 2012.
"Busong," which Solito said was based on stories his mother told him as a child, is a mythical drama that revolves around a young Palawanon's search for a healer to cure her sister and the strangers who helped them along the way. It is the first of a trilogy that focuses on the island-province of Palawan, the so-called last frontier of the Philippines.
According to the Philippine Embassy, "Busong," which stars Filipina actress Alessandra de Rossi, was among 25 that were chosen from more than 300 films that National Geographic considered for the All Roads Film Festival.
The festival was launched in 2004 to provide a platform for indigenous and underrepresented minority-culture storytellers around the world to showcase their works to promote knowledge, dialogue, and understanding with a broader, global audience.
"Busong" premiered last year at the Cannes International Film Festival's Directors Fortnight section and won Best Director, Best Sound Design, and Best Musical Score at Cinemalaya 2011′s Directors Showcase category.
It also received the International Federation of Film Critics International Critics Prize at the Eurasia International Film Festival in Almaty, Kazakhstan and the International Competition Tomorrow's Cinema Award at the 38th Brussels International Independent Film Festival in Belgium.
The screening of "Busong" was co-sponsored by the Philippine Embassy, which was represented by First Secretary and Consul Emil Fernandez, First Secretary and Consul Elmer Cato and Second Secretary and Consul Angelito Nayan. (DFA)