Symbols of the Philippines - National Symbols Related to the Philippines

The national symbols of the Philippines are primarily made up of those things that embody Philippine culture, traditions, customs and ideals and communicate the idea of independence and national unification.
Symbols are very, very important to people in quite a lot of countries, especially if these symbols are related to a sense of nationalism.
The officially recognized national symbols of the Philippines are:
• The flag of the Philippines,(Pambansang Watawat ng Pilipinas) : Red, white, and blue with a yellow sun representing the provinces of the country.
• The coat of arms of the Philippines : also featuring the yellow sun with 8 rays depicting the original provinces in the Philippines.
• Lupang Hinirang, the Philippine national anthem - "Chosen Land" : originally an instrumental march type of music without lyrics.
• Sampaguita (Jasminum Sambac) is the national flower of the Philippines: symbolizing purity and simplicity, the flower is small, white, and pleasantly fragrant.
• Narra (Pterocarpus), the national tree of the Philippines : also known as Rosewood, it is strong, sturdy, and durable - a common rainforest tree
• Philippine Eagle (Pithecophaga jefferyi), is the Philippines national bird. It is acknowledge to be severely endangered. The Philippine Eagle is protected by law in the country and there is extreme punishment for any harm done to them.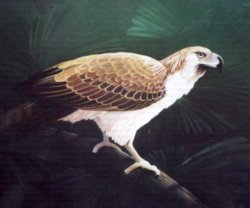 Philippine Eagle (Pithecophaga jefferyi)
Also, there are several unofficial symbols of the Philippines that are recognized by the entire culture:
• National Hero: Dr. Jose Rizal
• Cariñosa or Tinikling is the national dance. Gracefulness is symbolized by this dance.
• Carabao (water buffalo) is the national animal. It symbolizes industriousness and hard work due to its use on many farms in the country.
• Bangus (milk fish), is considered to be the Philippines' national fish. It symbolizes versatility, because of the many ways in which it can be cooked.
• Mango is the national fruit. Philippine mangoes are considered the sweetest in the world.
If there is something the Philippines is blessed with, it is the abundance of tropical fruits in the rustic countryside. There are literally hundreds of species of fruit, most of them suitable for eating and a very important part of Filipino food and culture.
• Barong - the Philippine national costume or clothing style for men -(untucked shirt of thin fabric displaying Chinese, Indo-Malayan tropical and Hindu influences) for Women: Baro't Saya (skirt and blouse with no collar)
• "Bayan Ko" and "Pilipinas Kong Mahal" are the national songs.
v• Arnis is the national sports (stick fighting)
• Anahaw (Livistona rotundifolia), the national plant. This plant is often used as hat, umbrella, or fan symbolizing the Filipino's resourcefulness.
• National House: Nipa Hut - typically a small bamboo house with a thatched roof