Philippine Folk Songs, Deeply Ingrained in the Culture are Filipino Folk Songs

Philippine folk songs are a result of the culture of the Philippines which is highly influenced by history and the blending of foreign persuasions and its indigenous civilization.
An understanding of the history of Philippine literature and folklore will allow us to fully comprehend the literary riches of this culture.
Folk speeches, Filipino folk songs and indigenous rituals are part of Filipinos daily lives. Hispanic influences are dominant within the Philippine's folk music, foods, art, religion, language and folk dances.
The infusion of such elements represents a way of life deeply ingrained within the Filipino people.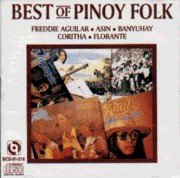 Philippine Folk Songs
Philippine folk songs are, quite literally, songs of the people. This list of Filipino folk songs gives a few examples of the many straightforward nonetheless timeless tunes that have been ingrained into the Philippine people's consciousness.
They could be songs that were learned from their parents or at school. They are also songs that were possibly learned in sunday school. That indicates, songs that everyone throughout the culture knows.
Bahay Kubo
Credited to have been written by composer and 1997 National Artist for Music Felipe de Leon (1912-1992), it tells of the typical Filipino rural house, the standard "bahay kubo" or nipa hut, and goes on to tell about the wide variety of vegetables planted nearby. This song is just as familiar to Filipino schoolchildren as the "ABC's" and "Twinkle, Twinkle, Little Star" are to kids throughout the western world.
Pakitong-Kitong
Also called "Tong Tong Tong Tong Pakitong-kitong," this Filipino folk song has versions in both Tagalog and Cebuano. It describes a crab that is very hard to catch because of its snapping pincers, but extremely delicious when eaten.
Magtanim Ay 'Di Biro
Also credited to Felipe de Leon, "Magtanim Ay 'Di Biro" ("Planting Rice is Never Fun") describes the tiresome task of planting rice. It has been sung by Filipino rock band 'The Dawn', and former president Joseph "Erap" Estrada even composed a much more "inspirational" interpretation entitled "Kung Tayo'y Magtatanim" ("If We All Plant Rice").
O Ilaw
A well-known example of conventional Philippine folk songs and a Filipino love song is "Kundiman", this song was made popular by Filipino singer and actor Ruben Tagalog (1920-83). The actual title of the song is really "Aking Bituin" ("My Star"), its current title having been derived from its first two words "o ilaw" ("o light").
Ang Pipit
"Ang Pipit" ("The Sparrow") touches on the account a sparrow who falls off the branch its roosted on after being stoned by a vicious man. It was co-written by Lucio D. San Pedro (1913-2002) and Levi Celerio (1910-2002). Named National Artist for Music and Literature in 1997, Celerio wrote over 4,000 songs and has even been included in the Guinness Book of World Records for his unique talent of playing music using a leaf.
Sa Ugoy Ng Duyan
Another collaboration from Lucio San Pedro and Levi Celerio. "Sa Ugoy ng Duyan" ("The Swing of the Cradle") is a haunting and longing lullaby conveying the emotions of a child finding calm security in the arms of a loving mother.
Sa Libis Ng Nayon
One of many Philippine folk songs that depicts the beauty and tranquility of life in the countryside. It was written by Santiago S. Suarez and made popular by Filipina singer and "Queen of Kundiman" Sylvia la Torre.
Bayan Ko
Written in 1929 by Filipino poet Jose Corazon de Jesus ("Huseng Batute" 1896-1932) and later set to music by Constancio de Guzman (1903-83), "Bayan Ko" ("My Country") was intended as a patriotic Filipino folk song resisting the American occupation of the Philippines. Since then, it has almost been a 2nd national anthem for freedom-loving Filipinos, a theme song for some of the most significant events in Philippine history. Its most famous interpretation is the one by Filipino folk singer Freddie Aguilar.
There are other famous Philippine folk songs based on other dialects spoken in the country - Dandansoy ia a Visayan folk song, Pamulinawen is an Ilocano folk song, Atin Cu Pung Singsing is a popular Kapampangan folk song, and Lawiswis Kawayan is a Waray folk song.
Courtesy of Kenny Leones