Philippines Video - The Phabulous Philippines in HD
Philippines Video Slated for presentation at the Scuba Show in Long Beach California, the largest consumer scuba show in the U.S.:
!-- End Google Horizontal Ads -->
The Phabulous Philippines in HD multimedia speaking presentation is Electric Blue Media's groundbreaking presentation as it is the first wide-screen, true full HD projected multimedia presentation ever done before scuba show audiences, and the first wide-screen, true full HD projected multimedia presentation ever done on the Philippines.
The Philippines Video "The Phabulous Philippines" in HD presentation is a series that will showcase local nature attractions, local culture as well and the incredible biodiversity and bio-density of the best scuba regions in the Philippines. In it will be amazing HD footage shot by us, some of which has been used by GMA7 in one of their "Born To Be Wild" episodes and some also used in their documentary: "Planet:Philippines" which syndicates Internationally.
Attendees will see a wide range of Philippines dive resorts, from upscale, exclusive resorts with private pools and en suite jacuzzis for each Balai, to quaint, whimsical bamboo cottages that are a cross between Swiss Family Robinson and the inside of Disneyland's Enchanted Tiki Hut, to spartan resorts that will fit any backpacking diver budget.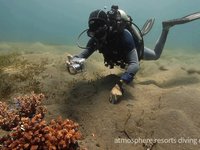 Philippines video HD footage above and below water will include Anilao, Maricaban and Sombrero Islands, Puerto Galera and Verde Island, Panglao, Balicasag, and Pamilacan Island, Malapascua and their thresher sharks, and stunning scenery of adjacent Kalanggaman Island.
Audiences will see amazing marine life HD footage of thresher sharks, swirling kaleidescopes of huge schooling fish, and spectacular macro HD footage of tiny bobtail squid, pygmy seahorses, elusive mushroom coral pipehorses, ornate and robust ghost pipefish, and every whimsical shrimp and colorful crab imaginable.
Attendees will see also spectacular Philippines video HD footage shot inside the Dagahoy Caves as well as aerial zip line footage in the Danao Adventure Park, the Simply Butterfly Reserve in Bilar, the amazing karst formations of the Chocolate Hills, the Loboc River Tour and centuries old Church of San Pedro, the incredible Bohol Tarsier Sanctuary, as well as stunning footage shot in Dumaguete and Apo Island and the culturally amazing Malatapay market experience.
The Phabulous Philippines in HD multimedia speaking presentation will thoroughly entertain audiences with captivating story telling, lots of good natured humor, spectacular nature eco-sites and incredible macro critter footage.
The Phabulous Philippines video in HD presentation is produced and free as our gift back to the beautiful people of the Philippines.
As an ongoing presentation on the U.S. scuba show circuit, we have future plans to add new destinations to The Phabulous Philippines in HD presentation such as Donsol, Palawan, Davao, Apo Reef, Tubbataha, Camiguin and Sangat Islands just to name a few, so always check back for what's new. And If you represent these or other new regions, we want to here from you.
Come experience the spectacular sites, the legendary hospitality, warmth and humor of the Philippine people, all set in a magical place "Where Mother Nature Did Some of Her Finest Work - The Philippines!