Philippines Diving Makes a Splash in UK Dive Show

"Philippines diving consists of more than 7,100 islands for the scuba diving enthusiast," so said the Philippine Secretary of the Department of Tourism (DOT) during the recently concluded Birmingham Dive Show held at United Kingdom's (UK) second largest city.
Top two on the most anticipated dive exhibitions in the world, the dive show attracts more than 50,000 visitors each year, and 60 exhibitors from the UK and all throughout Europe.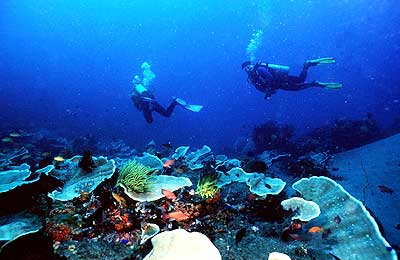 Philippines Diving
"Beyond tapping the market, our participation in this event also drives big dive operators to partner with us as they witness our huge marketing efforts and strong appeal to the UK divers," said Durano.
The Philippine booth occupied a 50 square-meter space, positioned right at the entrance of the hall.
Covering the Philippines diving regions of Puerto Galera, Dumaguete, Verde Island, Maricaban Island, MoalBoal, Batangas, Subic Bay, Donsol, Sorsogon, Bohol, and Palawan, the booth presented the Philippines diving varied sites that cater to all levels of divers.
"Our warm deep waters range from 22-31C, so divers may stay longer to enjoy wrecks, reefs, coral gardens, mile long walls, huge pelagic fishes, macro fishes, rare groupers, and other exotic marine life," added Durano.
Aside from the private partners in the Philippine booth, 15 UK dive operators in the event also offered liveaboards, family tours, corporate packages, and adventure tours at their own individual booths dotting the entire venue.
The dive operators were Coral Cay Conservation, Dive Tours, Explorers, Geo Dive, Oxygene, Philippines Diving Adventure, Regal Dive, Scuba Discovery, Snooba Travel, Symbiosis, Tony Backhurst, Sea Butterfly, Ultimate Diving and Worldwide Dive and Sail and Dive Worldwide.
According to DOT Undersecretary for Planning and Promotions, Eduardo Jarque, Jr., "Our partner for four years, and one of the world's biggest operators, Dive Worldwide, is even bringing their videographer to the country to feature our underwater paradise."
Dive Worldwide will send its videographer along with sales agents to a six-week familiarization trip to Cebu, Malapascua, Boracay, Puerto Galera, Apo Reef, Coron Busuanga and Manila, Jarque explained.
Scuba Tours Worldwide, on the other hand, discussed plans with the DOT to hold familiarization trips to the Philippines for the company's travel agents.
"More and more European operators want to get a chunk of our growing dive market," said Jarque.
A huge video wall featuring a majestic audio-visual show of the Philippines diving underwater paradise welcomed visitors in the venue.
Domingo Ramon Enerio, Tourism Attaché to London, said "Internationally-acclaimed Spanish videographer Sebastian Hernandis shot those scenes. It's scheduled to air in Discovery Channel in Spain, and eventually to other global networks."
Enerio acknowledged the country's popularity in the market, as several speaker presentations mention the local dive sites in their talk.
Dive Birmingham Show featured high-profile speakers such as BBC TV celebrity host Monty Halls who discussed his great ocean adventures and Mark Elyatt who talked about the deep wreck.
"Our sites are already familiar to the dive market in UK and Europe as we are always mentioned in these seminars, which have standing room only even with 500 available seats," Enerio said.
Enerio also welcomed award-winning Philippines diving author, photographer and videographer, Jack Jackson to the Philippine booth. Jackson talked about his new book on adventure diving.
Known for his worldwide bestseller work "Globetrotter Dive Guide: The Philippines" which won the Kalakbay Award, Jackson is a fanatic and spokesperson for the underwater sites in the country. His book is a definitive guide that details more than 200 dive and snorkel sites around the Philippines.
The UK market posted a record growth of 18.2 percent tourist arrivals from January – July this year, and is seen to breach the 90,000 mark by end of the year.