British Scuba Diving Magazine Focuses on Philippine Diving Sites

Recently, the British Scuba Diving Magazine, Sport Diver, produced the Ultimate Dive Destination's special anthology, 100 Dives to Do before You Die took deep interest in Malapascua and Apo Island.
The Philippines has plenty of diving places scattered all over the archipelago that have remained undiscovered by locals but have truly impressed foreigners who have had the chance to explore the country's unique natural resources and environment at par with the world's best.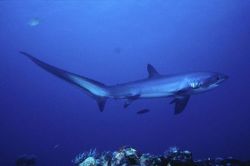 "Sport Diver" rates Philippines a top dive spot
Editor Bruce Martin described Malapascua and Apo Island as "a definitive list of underwater sites that divers shouldn't miss. It's truly an adventurer's must-dive of century-old wrecks, teeming reefs, and rare marine life."
Malapascua was picked for its consistent sightings of thresher shark, a six-meter pelagic fish with long, whip-like tail, large eyes, silver sheen on the side and smooth movements.
The thresher shark got its name for its ability to feed on schools of fish by thrashing its tail towards them.
Sport Diver said the thresher shark can be seen at Monad Shoal, a seamount, where they arrive at dawn to get their cleaning from a group of cleaner wrasse.
Apo Island, on the other hand, was described as a site which boasts of an abundance of excellent spots frequented by underwater photographers.
The Apo Island Marine Sanctuary is replete with a continuous chain of underwater life, with hard and soft corals attracting reef fish like snappers, surgeon fish, damsel fish, parrot fish, anemone fish and wrasse, which in turn, invite large species like barracuda, tuna, white tip and black tip, turtles and manta ray.
Filled with spectacular images and insightful commentaries, the scuba diving magazine included detailed experiences of contributing writers like Monty Halls, and photographer Martin Edge.
Halls, host of Great Ocean Adventures and Edge, author of one of the most comprehensive dive photography books, "The Underwater Photographer", have both played significant roles in placing the Philippines' dive sites on the global pedestal.
Philippine Department of Tourism Secretary Joseph "Ace" Durano, acknowledged the UK publication's selection and inclusion of the country's dive sites, saying, "The Philippines is a must-see, proven by no less than an insider's guide to the world's best diving destinations."
Durano, a diver himself, said: "The scuba diving magazine list is based on the opinion of experts who were looking for sites that have rare characteristics which stand out from the usual dive haunts."
Philippines is Scuba Diving Magazine Top Value Dive Destination
The Philippines is known to have the widest variety of oceanic species in the world. The popular must-try dive sites around the islands include:
* Anilao in Batangas
* Puerto Galera in Mindoro Oriental
* Cabilao and Balicasag Islands in Bohol
* Crocodile Island in Boracay
* Apo Island in Negros Oriental
* Mactan, Malapascua and Olango Islands in Cebu
* UNESCO World Heritage Site Tubbataha Reef in Palawan.
Also popular among experienced and amateur divers are the world-famous wreck diving destinations in Coron, Palawan and Subic Bay, Zambales.
International markets have pronounced the Philippine scuba diving sites as "dive to die for.
Scuba Diving Magazine readers voted for the Philippines earning it top rank in the Top Value Destination for the Pacific and Indian Ocean Region category in the Top 100 Readers' Choice Survey published in one of the most widely read publication for scuba diving enthusiasts in the United States.
Garnering a near-perfect score of 96.6 points, the Philippines bested other destinations in the Pacific and Indian Ocean region such as Palau, Indonesia, Fiji, Truk, Galapagos, the Egyptian Red Sea, the Great Barrier Reef of Australia, Cocos Island of Costa Rica, and Hawaii's Oahu and Maui as the top diving getaway that guarantees value for money.
Scuba Diving Magazine Reader's Choice survey results also showed that the islands ranked second and third in the Top Macro Life and Top Dive Destination categories.
The country further consistently landed in the top five list for best Marine Life, Healthiest Marine Environment, Wall Diving, Shore Diving, Underwater Photography and Advance Diving.