Biri Island Samar; An Uncharted Scuba Diving & Eco-Paradise of the Philippines

Biri Island, Samar presents a dynamic dive opportunity to see some of Asia's top dive sites.
The northern coast of Samar is predominately an uncharted area of the Philippines with massive potential for new and experienced scuba divers.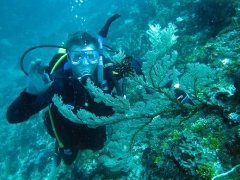 Biri Island Samar - Scuba Diving Philippines
One of the main attractions of Biri is the Garon Wall. For drift diving this is equal to Tubbataha, if not better and the joy is that it is a hop skip and a jump away from the main harbor, a definite must for experienced drift divers.
When your destination is Biri Island Samar you will see some of the other wonders of the world, the likes of Mount Mayon Volcano, Whale Sharks, Manta Rays, Turtles and so much more including, on land the famous Rock Formations formed by the Bernardino Strait incorporating the strongest currents in Asia.
It's interesting to note that the Strait handles 70% of the water that flows in and out of the Visayas, with a tidal flow in excess of 2.9 meters per second or 5.6 knots in parts. At the opposite end of the spectrum you can have a leisurely trip around the spectacular mangroves growing around the many islands. Or perhaps check out our marine sanctuary, the cave sharks are a wonder to see.
All this comes inexpensively as Biri Island Samar is not commercialized. It is a wonderful opportunity to visit this eco paradise while it's in its infancy.
Popular Dive Spots:
Dive 1 - House reef. A coral garden mound is at 6 meters below the surface down to 20 meters. A beauty of corals with 70 feet of visibility and on descent you might encounter a 2 meter long Laticaudids - sea krait.
Dive 2 - Garon Wall. A deep sea wall stretching from Biri Town harbor outer limits to Biri Point some 3 miles away. The bottom is approximately 20 meters, descending to 8 meters immediately the current is sweeping you along. After 8 minutes you encounter a deep sea wall at 18 meters. Just drift along the wall it's an extremely exhilarating fast current for the remainder of the dive every bit as good as Tubbahata.
Dive 3 -Cagnipa Island. You descend into a variation of soft and hard coral at 6 meters which slopes away westwards to the coral edge at 20 meters. Again, a strong current will sweep you along over the beautiful coral until you encounter an opposing current! Banded sea snakes, Angel fish and Whip coral abound.
Dive 4 - Magnatuka. This location is known for its Rip Tides. Sharks resting in the caves, yellow fin tuna swim by before you encounter a huge brain coral mound on the sea bed. Again 70 feet visibility.
Dive 5 - Garon wall 2A, continuation of Garon 1. The shoulder of the wall is at 8 meters at a depth of 14 meters with the bottom of the wall way down below you a fierce current will sweep you along for 35 minutes to the end of the wall.
Dive 6 - Macarite Island, Samar, is a sandy coconut shrouded bay which invites you to dive in relaxed conditions over a mixture of soft, hard and whip corals to a depth of 20 meters.
Dive 7 - San Antonio Island has large sandbanks jutting from the water surface. Enter the water into a strong head current before turning the corner into more relaxed waters. The 'J' shaped dive profile is noteworthy for the vast quantities of Cabbage Coral stretching over a massive area.
Dive 8 - Moving just 400 meters from San Antonio diving into 4 meters of water you're surrounded in soft and hard coral features. Descending to a maximum of 13 meters enjoy the color and terrain of the coral formation with 30 feet of visibility.
Dive 9 - Salvacion on the east side of Macarite Island moor the boat onto the soft sandy beach at the head of the arching coconut strewn bay. A shore entry dive. You follow a sandy slope then heading due south along a coral garden between 8 and 15 meters deep. You will see baby moray eels, lion fish and rare leaf fish among the wonderful marine life on this dive.
Biri Resort, Samar, offers a range of accommodations and dive trips to suit most holidaymakers, as we all know divers are always looking for new and exciting dive destinations.