Great Diving Locations Identified by SEA Knights Near Biliran, Philippines

The SEA Knights, an organization of scuba divers from Cebu City, a good number of them are priests, conducted a scuba diving exploration off the seas of Sambawan islet, Biliran, near the island town of Maripipi recently.
According to Rev. Fr. Tito Soquiño, president of SEA Knights, the divers were surprised to see the beauty of the coral reefs and different kinds of multi-colored fish and other marine life underwater around Sambawan Island facing the province of Masbate.
He said that what they saw underwater, simply confirms that the seas off Sambawan islet in Maripipi in the province of Biliran has the potential to be one of the great diving locations in the Philippines.
"The presence of different kinds of fish in the sea around this area is an indication that the ecosystem is good and food for the fish is still complete", he said.
The results and observations of the exploratory diving of the SEA Knights scuba divers were reported to the Provincial Tourism Council in Biliran so that necessary steps and safeguards could be made to preserve the prospective dive destination which is expected to draw more tourists both domestic and foreign especially scuba diving enthusiasts.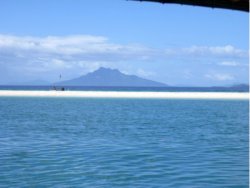 Biliran via discoverbiliran.blogspot.com
Fr. Soquiño said that one of the objectives of their organization is to help protect the marine resources especially in the Visayas area where most of their diving explorations are done.
"Whatever observations we get out of our diving exploration especially when severe damage is made to coral reefs and the marine environment due to dynamite fishing and other illegal means of catching fish, we report that to the concerned agencies and the local government so that appropriate action can be done to preserve the marine environment", he said.
In another tourism-related development, Sofronio Dacillo, Provincial Tourism Officer of Biliran informed us that the provincial government is intensifying its efforts to develop tourist spots found in different parts of the province to boost the tourism industry in the area.
Tourist Destinations in Biliran:
• Higatangan island in Naval and Sambawan island in Maripipi
• Mangrove area in Brgy. Look, Cabucgayan
• Casabangan Falls in Brgy. Balaquid Cabucgayan
• Tinago Falls in Brgy. Cabibihan, Caibiran
• Bagongbong Falls in Brgy. Caucab, Almeria
(Flor Jackson/ PIA 8 Bilrian)