Philippine Coral Reefs Underwater Paradise Preservation Promoted

Commenting on Philippine coral reefs near Sogod Leyte, James Adair said, "I haven't seen anything like it in the world," relating to the wealth of marine life that includes tiny seahorses, trigger fish, pipefish, frogfish, napoleon wrasse, gigantic whale sharks, barracudas, carpet sharks, and white tips, and astonishing formations of the Philippine coral reefs in Sogod Bay, Leyte Philippines.
Adair, Expedition leader of Coral Cay Conservation (CCC), brought 20 scholars with him to survey Sogod Bay's marine species and immaculate corals for conservation.
CCC is UK's award-winning non-government group of specialists working for coral reef and tropical forest conservation.
The British explorers raved about the exceptional dive spot and discussed their preservation efforts during a farewell get-together hosted by British Ambassador and Mrs. Peter Beckingham at their residence.
The Department of Tourism (DOT) together with the British Embassy, the Department of Foreign Affairs (DFA), and the local government of Leyte, hosted Coral Cay's expedition for this year.
"We fully support efforts of groups like Coral Cay in conservation efforts of Philippine coral reefs in Sogod Leyte which is gradually being discovered as the world's latest hub of marine biodiversity," said Joseph "Ace" Durano, Secretary of DOT.
On the other hand, Undersecretary for Planning and Promotions, Eduardo Jarque Jr. said, "We wish Sogod Leyte Bay the same success as CCC had in Danjugan Island in Negros which was awarded National Best Managed Reef among all Philippine coral reefs."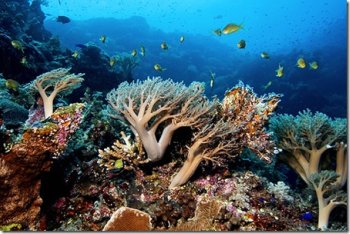 Philippine Coral Reefs courtesy of: www.filipinasoul.com
CCC and its partners in ecotourism were able to save Danjugan Island which was affected heavily by coral bleaching in 2001.
Jarque further lauded the commitment of the group to the community, "We also commend the group for educating the community on the importance of preserving resources for livelihood."
Leyte Bay was also featured in a recent issue of UK's leading dive magazine, DIVER.
Marine biologist Matt Doggett who spent six months in the area wrote about the "awe-inspiring and mind-boggling" underwater wonderland of the Philippine coral reefs in Sogod Bay.
Dogget gushed about the drift dive in Baluarte where he saw different kinds of sponges that are home to the hawkfish and featherstars.
He further marveled about the other Marine Protected Areas (MPAs) where he found teeming aquatic life, from the 12-meter long whale sharks to the tiny nudibranches.
Jaudelle Gold, one of the CCC scholars, said, "The best part of the Philippines is the people. When we painted the schools in the community, we were touched by the warmth of the school children."
Coral Cay also works with Year-Out Group, the biggest British group that sends more than 200,000 secondary students from the UK to various parts of the globe. This number is a potential tourism market sector for the Philippines.