Pilipinas - Philippines Travel and Tourism Delights

Pilipinas, meaning Philippines, also known as 'Pearl of the Orient', is a stunning archipelago scattered across the Pacific Ocean with over 7,107 tropical islands, outstanding beaches, colossal volcanic peaks, a wide variety of flora and fauna, and superb scenery.
It is separated into three (3) basic and distinct geographical areas: Luzon in the north, Visayas in the center, and Mindanao in the south. The country has many well-known historic and cultural areas and facilities that clearly show the abundant culture and customs of Filipinos.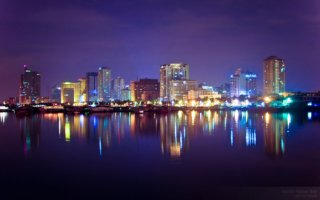 Pilipinas - Manila Philippines
Luzon, the major island in the north, is home to Manila, the huge and sprawling capital and major entrance point into the Philippines.
Sightseeing spots within Manila consist of the old fort city of Intramuros, Malacanang Palace, the official residence of the president of the Republic, Rizal Park which highlights Jose Rizal exhibit, Cultural Center of the Philippines, Nayong Pilipino, large and up-to-date shopping malls including the 'Mall of Asia", lively bars, nightclubs, theaters, and a fantastic assortment of restaurants. It is a Philippine travel destination that should not be missed.
Other places of interest around Luzon include Taal Volcano, Puerto Galera in Mindoro, Pagsanjan Falls, Vigan Houses, Mayon Volcano, Subic Bay and Freeport, the acclaimed Ifugao Rice Terraces, a UNESCO World Heritage Site, limestone burial caves of Sagada in Mountain Province, and Baguio City in the mountains providing a cool respite from the tropical heat.
Some of the most beautiful beaches, resorts, and scuba diving sites within Asia can be found in the Visayan Region of the Philippines, especially those found around Boracay, Bohol, Mactan Island and Cebu.
Mindanao in the southern region, offers an eco-tourism appeal and mysterious wilderness, such as, impenetrable forests, mangrove marshland, soaring mountains and low valleys, quick flowing rivers, smooth as glass lakes, plunging waterfalls, lowlands and swamp areas. The Gardens of Malasag Eco-tourism Village displays the ecology and ethnic culture of Northern Mindanao - its tribes, Pilipinas customs and other aspects of its exotic ancestors. The Philippine Eagle, which is the largest of its kind in the world, calls Mt. Apo home. Mt. Apo, located near Davao City, is the tallest peak in the Philippines and currently a dormant volcano.
Some of the country's rare birds such as fly catchers, fairy blue birds, sunbirds and rocket-tailed parrots are also found in the region. Other draws in the area include Samal Island, Mt. Hibok-Hibok in Camiguin Island, Zamboanga City, and Siargao Island, a diver's paradise.
You can also enjoy the exciting and interesting festivals throughout Pilipinas, such as, the Higantes in Rizal, Pahiyas in Quezon Province, Paradang Lechon in Batangas, Moriones Festival in Marinduque, Sinulog Festival in Cebu, Dinagyang Festival in Iloilo, Ati-Atihan Festival in Kalibo, Maskarra Festival in Bacolod City, Negros Occidental, and the Lanzones Festival in Camiguin.
El Nido in Palawan is a haven for those seeking sunny days at the beach, tropical wildlife, rain forests, and an incredible diversity of marine life for the snorkeling and scuba diving enthusiasts. Surrounded by marine and national parks, it is possible to have a bungalow which is only a stones throw away from the ocean on one side with the rain forest on the other.
Filipinos are friendly, fun-loving, and also talented and gifted in singing and dancing. They are also known for their savory traditional foods and delicacies. The fusing of Chinese and Spanish recipes with local dishes, and with the abundance of seafood from the bordering ocean creates a Filipino cuisine that is a unique dining experience.
• Sta Ana, Cagayan Province - A Hidden Treasure
In the north-easternmost region of Luzon are famous beaches, eco-tourism destinations, and marine resources...
• Maintaining Philippine Rice Terraces Still a Challenge - Ifugao Cultural Heritage Office
Ensuring the conservation of the Philippine rice terraces...
• MIMAROPA, Anyone?
MIMAROPA, an acronym for the island provinces of Mindoro, Marinduque, Romblon, and Palawan...
• Baler Aurora Philippines World Class Resort Set to Rise
Sabang, a favorite surfing destination of local and foreign tourists...
• Philippine Churches in Luzon - Outstanding Baroque Churches in the Philippines
Baroque churches on the UNESCO World Heritage List...
• "Biyahe Ta Mindanao" Set to Boost Mindanao Philippines Tourism Sector
Let's Travel Mindanao! Feel the wonder and beauty of nature...
• New Philippine Tourism Slogon Focuses on Filipinos to Entice More Tourists
Focusing on the country's core strength, the campaign singles out what no other destination can offer...
• Mount Malindang, Philippines, Declared a Heritage Park by ASEAN »
Mount Malindang Range Natural Park is blessed with numerous waterfalls and ideal for hiking and climbing...