Maintaining Philippine Rice Terraces Still a Challenge - Ifugao Heritage Office

Ensuring the conservation of the Philippine rice terraces
An official here said that the delisting of the Ifugao Rice Terraces by the United Nations Educational, Scientific and Cultural Organization (UNESCO) from the List of World Heritage Sites in Danger remains a challenge.
Renato Patacsil, head of the Ifugao Cultural Heritage Office (ICHO) said that this is good news since after a decade, the famous tourist attraction is now de-listed from the said list of endangered sites.
"We are happy and it is a great honor to have the international community recognize our efforts in ensuring the conservation of the Philippine rice terraces," Patacsil said.
However, he stressed that the maintenance of the terraces remains a challenge to all sectors such as the government from national to barangays government units and other concerned agencies such as the Department of Agriculture (DA), ICHO, Department of Environment and Natural Resources (DENR) and the National Irrigation Administration, Department of Tourism, among others and the private sector.
In 2001, the rice terraces were placed in the List of World Heritage in Danger because of the site's deterioration over the years due to various factors including neglected irrigation and weak management systems.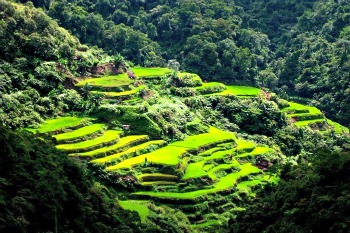 During the 36th session of the World Heritage Committee on June 26 in St. Petersburg, Russia, the rice terraces were reinstated in the UNESCO World Heritage List by a committee composed of 21 state parties to the World Heritage Convention, according to a statement from the UNESCO National Commission of the Philippines.
The criteria for their decision included successful site restoration and conservation, as well as planning and proper management.
The rice terraces were inscribed in the UNESCO World Heritage List in 1995 as an "extraordinary example of an evolved, living cultural landscape." The Ifugaos carved the terraces along steep mountainsides over hundreds of years, and the tradition has been retained until now.
UNESCO described the Philippine rice terraces as "the fruit of knowledge handed down from one generation to the next, and the expression of sacred traditions and a delicate social balance."
The ICHO had been working closely with various groups such as the provincial government of Ifugao, government agencies and the private sector to save the Ifugao rice terraces.(JDP/Vivencia D. Bulayungan- PIA CAR, Ifugao)