Mindanao Philippines "Biyahe Ta Mindanao" Set to Boost Tourism Sector

"Biyahe Ta Mindanao" (Let's Travel Mindanao), a brainchild of the Mindanao Philippines Tourism Council (MinTC) and Davao Council of Travel and Tours and Allied Agencies (DCTTAA), heightened its promotion with government tourism officers, tour operators and travel agencies and some members of the media by cruising Mindanao island.
MinTC president Araceli Ayuste said the group journeyed to South Cotabato, Sarangani Province and General Santos City (SOCSARGEN) for its second leg in line with its goal to sell Mindanao as one.
The scenic view of Lake Sebu in Tupi, South Cotabato, the summer capital of Southern Mindanao, exactly ascertains the wonder and beauty of nature. In Lake Sebu lies Punta Isla Resort, a place where life blends with nature. In Punta Isla, you will experience the panaromic view of the lake.
For tilapia eaters, Punta Isla is the place to go because it serves over 50 different tilapia dishes, including the very delicious "chicharong tilapia".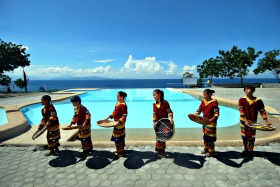 Lemlunay Dive Resort via saranganiphotonews.blogspot.com
Today, more tourists are heading to Lake Sebu in Mindanao Philippines not only for its seven magical waterfalls but also to take pleasure in riding the breathtaking zip line sashaying across the falls.
For only P200, you can ride the zip line facility and gaze at how marvelous Lake Sebu's seven rushing waterfalls and vast forest.
Sarangani also offers scenic resorts among others, the White Haven Resort in barangay Gumasa, Glan, and Isla Jardin Del Mar. The entire white sand beachfront is the venue of Sarangani Bay Festival.
When in Sarangani, domestic and foreign divers shouldn't miss visiting Lemlunay Dive Resort the so called "Scuba Divers Paradise" in Tinoto, Maasim, in the southwest corner of Sarangani Bay. Aside from their snorkeling and diving activities in crystal clear deep sea blue waters, the resort also has a new infinity pool.
Sarangani vice governor Steve Solon in Lemlunay Dive Resort said visitor arrivals in Sarangani, including during festivals, have markedly increased from 2005 to the current year.
Composed only of seven towns, Sarangani Province has great economic and tourism prospects and is easier to manage, Solon said.
Still very rural, Sarangani is a come on to investors particularly tourism-related businesses such as resorts.
For this, the Sarangani Provincial government is targeting to develop the province as an eco-tourism destination in Mindanao.
"So we're targeting adventure tourists, but we still need to improve our facilities, and eyeing more investors," Solon said.
He said elected leaders of SOCSARGEN are closely working together to develop further SOCSARGEN's tourism potentials to find a place on the world tourism map.
Solon also includes World boxing icon Sarangani Congressman Manny Pacquiao as a tourism asset for Sarangani. "The presence of Manny here is a draw," he said.
"Biyahe Ta Mindanao" in Mindanao Philippines toured Pacquiao's 12-hectare farm in Sarangani. Aside from mango fruit bearing trees, the farm is haven to Pacquiao's hundreds of fighting cocks.
Pacquiao's mansion in General Santos City has also become a tourist destination after Pacquiao has been transformed into a very famous and wealthy man in the world, according to Dr. Tranquilino Ruiz, owner of Sarangani Highlands, an overlooking hotel and restaurant located in Tambler, General Santos City.
Tambler is the last barangay of General Santos City before reaching Sarangani Province. The hotel is also breathtaking because you can experience the panaromic view of Sarangani Bay while eating in its restaurant vastly surrounded with a relaxing garden ambiance.
Ayuste is confident "Biyahe Ta Mindanao" could help sell Mindanao Philippines as one to domestic and foreign tourists and slowly ease the negative perception that it is a no-no destination for travelers from the country and abroad.
Meanwhile, Ayuste said "Biyahe Ta Mindanao" third leg will tour Siargao Island, Surigao del Norte the surfing hub of the Philippines and other key destinations of Western Mindanao.
Ayuste said the tour kicked off in Northern Mindanao specifically Bukidnon, Cagayan de Oro, Oroquieta, Ozamis and Dapitan.
The group had its first stop in Seagull Valley in Budda, Bukidnon with its overwhelming scenery and freezing weather and proceeded to Gloria's Fantasyland, the so-called Disneyland of the Philippines, Dakak Beach Resort, Rivercruise Dining in Dampa Marine Park and the historical place of Jose Rizal's exile in Dapitan City.
The group on its way back to Davao explored Cagayan de Oro in Mindanao Philippines and visited some of its tourist sites such as the Gardens of Malasag, Museum of Three Tribes and Makahambus Cave. (Judy G. Quiros/PNA/LDV/JGQ/ldp)