Learn to Speak English - Cebu is Becoming an English Learning Hub Destination

Cebu is being eyed as the Philippines prime destination for those wanting to learn to speak English.
Organizers of an international Teaching English to Speakers of Other Languages (Tesol) conference said positioning of Cebu as a prime destination for English learning will not only help produce English-proficient Cebuanos but spur economic activities in the city and province of the Philippines.
Cebu Hub of English Language Excellence (Chele) vice president Roy Lotzof said this strategy will also attract more international students to learn to speak English in Cebu and at the same time provide a venue to improve the proficiency of Cebuanos.
Lotzof said demand for workers keeps rising in call centers and related outsourced service providers.
Chele oversees the international students' well-being and safety while studying in Cebu.
It accredits professional service providers and provides a list of professional language providers.
Promoting Cebu as a global English learning hub will open job opportunities and increase spending and investments in the city, Lotzof added.
Chele and the Asian EFL (English as a Foreign Language) Journal announced it will host the 1st Cebu International Tesol Conference at the Cebu International Convention Center, Cebu Doctors' University-Mandaue Campus and Benedicto College.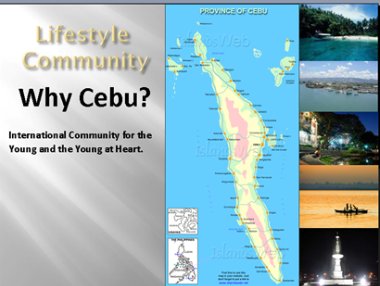 Lotzof said the conference will showcase Cebu Province and allow international experts to examine how Cebu can better its English proficiency.
The activity also aims to establish links between schools and universities.
"This activity will also help determine and develop the teaching structure of the English language based on the requirements of international students who want to learn to speak English," Lotzof said in a press conference at the City Sports Club.
The conference, dubbed as "The English Language: The Power to Connect," will bring together international and national speakers and has so far attracted abstracts from over 100 educators nationwide.
Tesol-Asia president Paul Robertson said if Cebu establishes itself as a global hub for English learning, it would be easy for the island to cater to more international students not only from Korea, but also the Middle East, Japan, China and Taiwan.
"The country would then be the biggest supplier of English teachers in the world in the next five years, if its language skills will be enhanced," Robertson said.
Among the topics the conference will cover are second language acquisition theories, teaching English to international students, professional issues on educational standards, alternative approaches and latest trends in teaching English as a Second Language (ESL) and English for Specific Purposes (ESP).
This year's conference expects to draw at least 1,000 delegates from the academe and professional organizations.
The event is supported by Cebu's business organizations, Cebu City and Provincial Governments and the One Cebu Festival organizers.(PNA)