Call Center Jobs Philippines

Working at a Philippine call center - call center jobs Philippines
English is one of the official languages in the Philippines and oftentimes, English is used in print and broadcast media, business transactions, store signs and street warnings. English is taught in all levels of education and because of that, most of the Filipinos can speak and understand the English language making the country a huge attraction for business process outsourcing companies.
Investors of call centers prefer the Philippines as a location of choice being less expensive with its operational and manpower costs. As of today, a call center is regarded as one of the fastest-growing industries in the country. Services include customer care, customer relations, travel services, sales verification, surveys and technical support.
Every company goes after an applicant who is highly qualified to deliver world-class service not only with his proficiency with the English language but also with his ability to empathize and communicate with the customers. Some of the common practices during a recruitment process include phone screening, interview, exams, training and signing of agreement.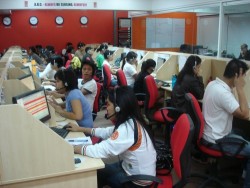 Call Center Jobs Philippines - Working at a Philippine call center
Interested applicants who pass the minimum requirements for the job, with emphasis on English proficiency, may apply to any of the call center companies online or in person. While most, if not all call center companies advertise their job vacancies online and on newspapers, walk-ins are always welcome. If you want to save time and get coached on the do's and don'ts, there are also employment agencies which can cater to your needs. The agency screens your documents and your qualifications and matches your skills to job vacancies that you may apply.
Applying online remains the fastest and easiest way to submit your application. Once you pass the phone interview, you will then be scheduled for another screening that will lead to signing of contract if both parties agree with the terms.
The Philippines now has 788 call centers over 20 key locations. Manila and Cebu have the most number of call center companies. Below is a list of some of the call centers in the country. To apply, you can visit their websites or you may choose any call center company close to your location.
E-Telecare
E-Telecare Global Solutions is the first Filipino Ayala-backed call Center Company which provides technical support, inbound customer service and sales programs to Fortune 100 clients.
Convergys
Convergys is one of the world's leaders in providing human resources, billing services and human resources. It has been operating in the Philippines since 2003. With the demand for more call center sites in the Philippines, Convergys has opened its biggest call center in Glorietta 5, Makati and with 2,041 seats, it is also considered as the biggest in the world.
SVI
Software Ventures International (SVI) is composed of a dedicated team of MIS specialists and is a leading provider of Business Solutions Development and IT consulting. It had been in operation for over 20 years and had developed business solutions for major worldwide industries in telecommunications, healthcare and pharmaceuticals, transportation, media, banking and insurance, manufacturing, energy and government.
Aegis People Support
Aegis People Support is one of the fastest growing BPO companies, with P5.7 billion in revenue in 2008. The company offers interactive and back-office services to a number of Fortune 500 companies worldwide in the areas of telecommunications, healthcare and insurance, travel, banking and finance. The company has a total of over 5,000 workstations in their 8 Philippine facilities. People Support merged with Aegis on 30 October 2008.
ICT Group
Customer care solutions are the major service being offered by the ICT group. They provide support for domestic and international corporations in the fields of insurance, telecommunications, healthcare, hospitality, finance, and information technology among others. It started operation in Makati in 2003 and has grown ever since and has opened additional centers in the Philippines. ICT Group provides services to clients in the United States, Australia, Canada and the United Kingdom.
West Services
West Services is a growing BPO center in the Philippines, offering automated voice response services, direct marketing, and customer initiated contacts processing, including inbound and outbound calls. West Services has been honored as the 2009 Employer of the Year by the European Chamber of Commerce of the Philippines for the company's thrust to provide career advancement opportunities, family-like work environment and very competitive pay.
Teletech
Teletech is a major provider of integrated customer relations management solutions. It formed an alliance with the Philippine Long Distance Company (PLDT) in December 2000 for the expansion of its Philippine operation. Teletech focuses on servicing the US market through its facilities in Cebu and Manila.