Philippine Travel : Eco-Tourism Destination on the Rise

Philippine Travel Exchange Highlights Eco-tourism in the Country
The country has not felt the crunch of the global economic situation.
This statement was proven by the growing amount of tourism opportunities, seen in the recently concluded Philippine Travel Exchange (PHITEX).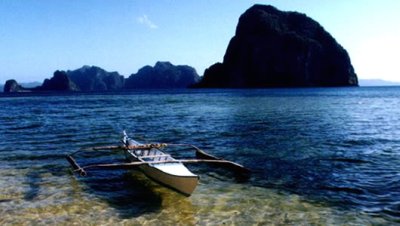 Philippine Travel
Among the highlights of the event was the Philippines' status as a most desired eco-adventure destination.
The Philippine Tourism Secretary said "This year's PHITEX is the biggest and largest yet, with intensive business appointments lined up for the most influential buyers from different market segments."
PHITEX attracted 205 foreign buyers -- carefully selected and matched with a formidable list of sellers in the country, offering expert market knowledge and appropriate travel services and products.
"In light of the economic scenario and the issues of global warming and climate change, we continue to position Philippine travel as an ecotourism destination. Our natural wonders are what we could be proud of the most, with our unspoilt beaches, pristine rainforests, vast mountains, and numerous islands," the Philippine Tourism Secretary said.
He further said, "As we persist in moving the Philippines forward in ecotourism efforts, we enjoin travelers to not only explore the many marvels of the country, but, more importantly, help in preserving the environment through responsible tourism."
Undersecretary for Tourism Planning and Promotions Eduardo Jarque Jr., said, "Despite the seeming global challenges, the country's tourism industry has remained vibrant, with all sectors working together to stimulate activity and movement."
Jarque added, "There is no better time for Philippine travel than now. We have more destinations beyond the usual and more flights around the country."
Xpert Holidays, a dynamic travel company from Hong Kong which provides personal and professional services to people who are looking for adventurous, exotic and unique holidays, prioritizes the promotion of ecotourism to their segment.
Chi Ping Phoebe Tang, Assistant Operations Manager, said "The Hong Kong market is high on eco-travels, and we respond to this by offering one-of-a-kind tours. We have found that the Philippines appealed to a wide range of clients."
Tang shared, "The Philippines is a good place to start educating people on responsible travel, where your 'save the earth' advocacy can truly be nurtured," citing El Nido, Palawan, as one of the most beautiful places she's ever been to, and a destination widely popular with families in Hong Kong.
According to Hoi Kuen Wong, Tourism Market Representative to Hong Kong, Macau, and South China, "The Philippines has steadily and quite speedily gained a following on ecotourism, with beaches and adventure trails all over the islands, such as Palawan, Bohol, and the Cordillera.
He added, "We are confident that the Philippines' growth in tourism can surpass that of the previous years."
Walter Sultan, Phitex Secretary-General, said, "This year's PHITEX has been envisioned as a profitable and fruitful undertaking for both buyers and sellers, to discuss business relations for tourism. Aside from the intensive appointments, we continually enjoin foreign buyers to continue to discover the wonders of the archipelago and experience the warmth of Filipino culture."
The buyers who attended the PHITEX will be led to post- tours around the country, highlighting eco-adventures in Palawan, Bohol, and Cebu.
Tess Mauricio, OIC for Travel Trade Promotions of the Philippine Convention and Visitors Corporation (PCVC), shared, "We wish to let the foreign buyers experience first-hand the unique adventures in the Philippines, to further allow them to promote the Philippines as a multi-faceted destination."
• Sustainable Tourism Program Pushed by Eco-Tourism Expert
The Philippines boasts 7,107 islands; ranks fifth in the world and second in Asia in terms of endemic animals...
• Mt. Isarog National Park Eyed for UNESCO's Biosphere Reserve Program »
Mt. Isarog National Park is wrapped with radiant forest from base to peak...
• Eco-Holiday - Explore the 10 protected areas of the Philippines »
Take an eco holiday in the Philippines and explore the 10 protected areas of the country...
• Eco Tourism Holiday Adventure at Nabuclod Upland Eco-Tourism Park »
Enjoy an eco tourism holiday in Pampanga...
• Eco Adventure Tourism Gaining Headway in Itogon, Philippines - Mt.Ugo Summer Climb Tops Best Tourism Event »
Its making its niche as an eco tourist destination foremost of which is its Mount Ugo Summer Climb...
• Eco Friendly Holiday Adventure in Northern Mindanao, Philippines »
An eco friendly holiday awaits the adventurous in the Philippines...
• Eco Friendly Park Adventure at Sarangani's IML Ecopark and Resort »
IML Ecopark is an all-adventure destination, recreation, and vacation spot...
• Bohol is a Model for Eco-Tourism »
Entirely packaging tourism that is a spin-off from the traditional definitions...
• Caving in the Philippines - Peñablanca is the Limestone Cave Adventure Capital »
The seven-chambered Callao caves boast of massive limestone rock formations, skylights, and a chapel...
• Embracing Indigenous People - Bagobo-Tagabawa way of Life at the Foot of Mt. Apo »
Tibolo Cultural Village offers a wide range of understanding and encounters with the culture...
• Cuatro Islas Adventure Tour Promotes Eco-Tourism in Eastern Visayas »
An island-hopping tour package for the Cuatro Islas Protected Landscape and Seascape...
• Newest Philippine Tourist Attraction; Agas-Agas Viaduct »
Not only for the lovers of natural bounties of nature, but especially for good brave souls...