Have an Eco Tourism Holiday Adventure at Nabuclod Upland Eco-Tourism Park

Enjoy an eco tourism holiday in Pampanga
The 454 Aeta families at the Nabuclod Settlement in Floridablanca, Pampanga, Philippines, have been awardees of Certificates of Ancestral Domain Titles (CADT) since 2006. They are now recognized as owners of the land they occupy.
These families also decide their own priorities for development through the formulation of their Ancestral Domain Sustainable Development and Protection Plan (ADSDPP).
This plan is also a ready reference for collaboration with development partners.
Part of this development plan is the establishment of the Nabuclod Upland Eco-Tourism Park.
This summer, tourists and environmentalists can go to Nabuclod to experience a unique adventure atop the mountains.
The 5,000-hectare Nabuclod Upland Eco-Tourism Park features two viewing decks where you can view the whole stretch of the lowlands of Pampanga.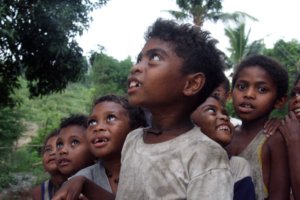 Aeta Children
Through the zip line and the cable car, two of the four to be constructed in the area, where you are suspended in midair and you can view the lush greenery and vegetation surrounding the area.
There is a trail for both hikers and mountain bikers who prefer to ascend with more challenge.
Campers can pitch their tents for an overnight stay at the spacious camping site.
There are huts where tables are set up for those who eat their meals.
A grotto is also set to be established to provide a sanctuary for prayer and meditation.
What is more interesting is being able to interact with Aeta children and families in this trek to the mountains.
From Basa Air Base in Floridablanca, it is 12 kilometers and an hour's drive to reach Nabuclod for your eco tourism holiday.
Signages are posted to guide the visitors on their way to the park. (WLB/Rebecca Grace S. David-PIA3)