Newest Philippine Tourist Attraction; Agas-Agas Viaduct

The country's highest bridge, the Agas-Agas Bridge in Southern Leyte is now the Philippines' newest tourism attraction, not only for the lovers of natural bounties of nature, but especially for good brave souls who can bungee jump 30 stories down from the 90-meter high bridge.
The Agas- Agas Bridge has been visited by people from far and near who want to take a glimpse and have their pictures taken of the bridge in the middle of a breathtaking panoramic view which is only seen in postcards.
Straddled between two mountains and traversing along the Mahaplag-Sogod Section of the Tacloban-Liloan Road, the Agas Agas Bridge provides a significant link for motorists traveling from Luzon to Mindanao and vice versa.
The tourism potential of the beautiful Agas-Agas Bridge did not escape the keen eyes of a few sharp people who devised a plan to turn the P1.024 Billion bridge into a haven of extreme sports for sports enthusiasts who are into bungee jumping, paramotor, downhill skateboarding and zip-line rappelling.
A bungee jumping platform has been constructed along the modern bridge and view decks have also been constructed in the center part of both sides of the bridge so that tourists could alight from their vehicles and enjoy the panoramic view and experience the kiss of clean, fresh mountain air.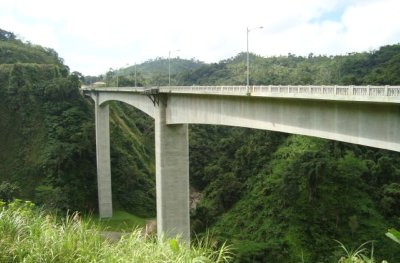 Philippine Tourist Attraction -
Agas-Agas Bridge in Southern Leyte
Now you can jump from the bridge and live to tell friends about it, but only under the tutelage of a bungee jumping instructor, of course.
Southern Leyte Governor Damian Mercado will surely welcome extreme sports enthusiasts who would come over and check out the Agas-Agas Bridge's sky-scraping height.
Other tourist amenities have also been put in place. On both ends of the bridge, two state-of-the-art comfort facilities are available for the motorists and travelers to use.
The Agas-Agas Section of the Maharlika Highway in Sogod, Southern Leyte has been known for being prone to landslides during heavy rains, stalling traffic and economic activities.
Thus, the viaduct was constructed in 2006 primarily to help motorists avoid the mountainous sections that are prone to landslides and slippery road and prevent life and property losses.
This bridge is by far the tallest pier or column within the Philippine Islands. It involved the construction of a 350 linear meter bridge, with a mix of steel and concrete, supported by two piers with a height of 292 feet above the ground. (PIA 8)