Have an Eco Friendly Holiday Adventure in Northern Mindanao, Philippines

An eco friendly holiday awaits the adventurous in the Philippines
Famous for its captivating islands, enchanting falls and caves, exotic parks and rivers, and lush greeneries of mountains, Northern Mindanao is one of the most sought after eco-adventure tourism sites in the country.
Decius Esmedalla, Regional Marketing and Promotions Officer of the Department of Tourism (DOT), in region 10, said both local and foreign visitors can enjoy a wide range of experiences in the identified adventure and eco-tourism destinations in the region.
Among the identified sites is the 25-hectare Lake Apo located at Guinoroyan in Valencia City of the Bukidnon province which is surrounded with lush greeneries of hills and mountains, huge ferns and endemic plants, as well as orchids and other flower plants. Esmedalla said Lake Apo is one of the emerging attractions in the region where you can cruise around the lake in bamboo rafts.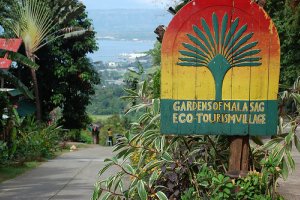 Also, right at the heart of Malaybalay City is the Kaamulan Park, a theme park encompassing vast natural surroundings of pine trees, hilly areas, endemic plants and landscape for leisurely walks, horseback riding, and off-the-track races.
The Canopy Walk situated within the rainforest of Barangay Mag-Bais in Claveria town in Misamis Oriental is a sought after eco friendly holiday destination in the region being one of the earliest canopy walks in the country, he cited. According to him, its best features are the varied sceneries of the site as you manage to transport yourself to the seven decks all atop some 150 feet from the ground where you are greeted with the scent of forest and brilliant display of flora and fauna.
Other sites cited by Esmedalla are Agutayan Island in Jasaan town which is a marine sanctuary and nursery of five species of giant clams; the century-old catholic church of Immaculate Concepcion which is situated also in Jasaan and identified by the National Historical Institute as a historical spot and one of the most well-preserved churches still operational in the country.
In Sugbongcogon, he said you can also experience nature tripping in the Mantianak Zoological Park which features flora and fauna, tigers, and various bird species.
The Lasang Boardwalk and Treetops or the Initao-Libertad National Park Seascape and Landscape also offer an adventurous experience and a marvellous eco friendly holiday with sights of the woodland. Developed as a theme park, its seascape is home to centennial-old trees, endemic flora and fauna, tarsier monkeys, rare ferns and wild orchids, as well as a cave habituated by nose-clip bats.
The Gardens of Malasag Eco-tourism Village are also a must see in Cagayan de Oro. Nestled in the 7.5 hectare hilly reforestation of the Department of Environment and Natural Resources (DENR) in Barangay Cugman, the garden features tribal houses, souvenir shop, open air coffee shop, swimming pool, multi-purpose air-conditioned building, guest cottages, dormitories, orchidarium, wide camping ground, picnic area, jogging lane, and open amphitheatre.
Just ten minutes from the Gardens of Malasag is the Mapawa Nature Park which also offers facilities for eco friendly holiday adventures like trekking, horseback riding, waterfalls hopping, and zip line, he added.
For those who want to experience a limitless aqua adventure during their eco friendly holiday, Esmedalla identified the Mantangale Alibuag Dive Resort in Balingoan and the Duka Bay Resort in Medina which offer wide range of facilities like scuba diving spots, fish watching/feeding, cavern diving, wreck diving, night diving, and underwater photography.
You can also enjoy a cool respite at Tiklas Falls in Gingoog City, Maria Cristina Falls and Hindang Falls in Iligan City, as well as Tinago Falls and Cathedral Falls in Lanao del Norte province.
Northern Mindanao is also famous because of the Cagayan de Oro River White Water Rafting. He said the rafting stretch provides striking panoramic views of the rocky walls, lush vegetation, and breath-taking challenging varied rapids of less than 10 minute intervals. The river is also best to do tubing (an indigenous Philippine version of wild water adventure) as well as kayaking.
Other features if this site are the exciting eco friendly holiday walk on a 120m long skybridge suspended 120ft from the ground. Also, a few yards away is the historical Macahambus Cave, where a cavern leads to a natural veranda overlooking the river. Zip line and rappelling in the Macahambus (gorge) Adventure Park. Both gorge and cave are right on the sides of the national highway where private and public transportation are available.
Another must-see destination is the Misamis Occidental Aquamarine Park which is famous for its dolphin viewing area. The 200-hectare aquaculture production center, mangroves, and wildlife sanctuary are located in Sinacaban town, about 20 minutes by land from the Ozamiz Port.
A popular destination in Tangub City is the Highland Gardens in Barangay Hoyohoy which is considered both a botanical garden and a museum of living plants as well as a site of the up and coming popular grass skiing.
Meanwhile, Esmedalla said the entire province of Camiguin is considered an eco friendly holiday destination due to its rich natural attractions found in waterfalls, hot and cold springs, marine life, islets of fine white sand, diving areas, caves, old church ruins, and centennial-old houses. (Apipa Bagumbaran/PIA-10)