CebuNext - Cebu Furniture Exhibition

Don't Miss the Cebu Furniture Exhibition
For a 21-year old exhibition, the Cebu International Furniture and Furnishings Exhibition has held its ground as the not-to-miss exhibition on this side of the globe. It has consistently delivered Cebu's exemplary creations to a worldwide audience in search of furniture pieces that are extraordinary, exquisite, or simply exceptional in quality.
Propelled by a constant drive to move forward, the exhibition, previously known as CEBU X, has been reincarnated as CEBUNEXT.
As CEBUNEXT, the exhibition embodies the drive to create new designs with exceptional quality. It harnesses and consolidates the collective strength of the Philippine furniture industry, while highlighting Cebu as the design capital of Southeast Asia.
Its key focus areas being sustainability, a return to hand-craftsmanship, and individual design, expect to be impressed by the broad array of Cebu furniture pieces on display at CEBUNEXT -- pieces that are proudly designed and made in Cebu, and out to make waves in the worldwide furniture market.
CEBUNEXT offers everyone the opportunity to see why the world's best high end furniture brands (such as Dedon, B&B Italia, Bernhardt & Baker) are convinced to produce their prestigious pieces in Cebu. Excellent Cebuano craftsmanship is combined with cutting-edge furniture technology to produce pieces in a broad spectrum of styles -- from traditional to contemporary to practical to ingenious and everything else in between.
At CEBUNEXT, expect to be astonished and inspired.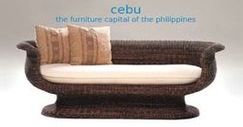 There is a a rich history in Cebu furniture making. So rich that it is even the key source for trends that are followed worldwide, such as the popularity of rattan & buri in the 60s & 70s respectively, stonecraft in the 80s, and the cane & iron furnishings in the 90s. Cebu has also been instrumental in the abaca trend of early 2000, and the trend for outdoor woven furniture that started some 4 or 5 years ago. CEBUNEXT continues this leading legacy by setting its sights forward to the furniture trends of the coming decade.
Step into the room, lobby, or patio of a top-caliber hotel, luxury spa, Michelin-star restaurant, trendy bar or designer home in a random part of the world. Chances are, you will chance upon exquisitely crafted furniture and furnishings that would've made an otherwise ordinary experience worth remembering. Chances are, those furniture and furnishings were made in Cebu. Because the fact of the matter is, some of the world's best brands source here.
What we have over here is a good blend of creative talent, an abundance of skills, the availability of materials, access to technology, and decades and decades of experience in supplying the world's demand for furniture pieces that are exceptional in quality, innovative in design, and unparalleled in craftsmanship. It comes as no surprise then that top-caliber brands from the world over entrust their furniture and furnishings needs upon the Cebu furniture industry.
Tradition + Innovation is a formula that Cebu-made furniture is anchored on. With a track record for design excellence, setting trends, and finding new applications for traditional skills and processes, Cebu furniture is pushing furniture design and production well into the next decade and beyond.
Come see what's next at CEBUNEXT
Venue:
SMX Convention Center
Manila, Philippines
Show Dates:
16 - 19 October 2011
14 - 17 March 2012
(Cebu Furniture Industry Foundation)