Philippine Renewable Power, Alternative Energy are the Target of ADB US$ 1-B Investment

Renewable power development has a strong potential for growth in the Philippines
At least US$ 1 billion investment is willing to be put up by the Asian Development Bank (ADB) in the next five years for the Philippines' renewable and energy efficiency program.
Sohail Hasnie, ADB principal energy specialist for Southeast Asia Department, said the US$ 1 billion investment could provide 1,000 megawatts of combined renewable energy and other energy projects.
He said the majority of the financing will be in the form of loans and also through grants.
Hasnie added they will coordinate with the Department of Finance and the National Economic Development Authority (NEDA) to identify the renewable power beneficiaries and recipients of the funding.
"We have worked with your government and agencies and we are looking at financing up to a billion dollars with our co-financing partners for the Philippines on its energy efficiency and renewable energy programs. We are waiting for the new government/administration for us to engage and align our priorities with their priorities," Hasnie said during the Asia Clean Energy Forum at the ADB Headquarters.
ADB had initial discussions with NEDA already, Hasnie said, although she added they put it on hold for the meantime and are waiting for the new administration "to see if their priorities are aligned (with us)."
"We can start preparing the feasibility study in a few months time. Maybe, we can implement it by end of next year. If the Philippine government will agree, we can do a five-year tranche," he said.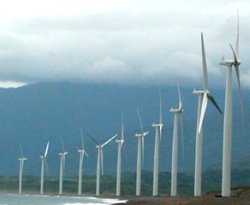 Wind farm producing Philippine renewable power
He stressed that renewable energy development is an area that has a strong potential for growth in the Philippines.
"You have all the necessary parameters for promoting renewable power such as, you have a very high electricity tariff; you have a lot of renewable energy available; you have a very good regulatory framework available; and you don't have as a country, the Philippines does not have an energy source, so you're a net importer of oil," he said.
Hasnie noted that the Philippines should also concentrate on further improving renewable power programs in order to be less dependent on imported fossil fuel.
"We are looking at some hydropower and wind in that portfolio, maybe we'll work with the private sector," Hasnie said.
The US$ 1 billion financing could be used for energy efficiency projects such as large scale air-conditioning use in public offices by reducing air-conditioning consumption, energy efficient buildings, promotion of energy efficient refrigerators and electric fans and electric tricycles using lithium batteries.
He said ADB is already in talks with the Philippines for a US$ 125 million funding for 100MW solar power project which they secured from the World Bank's Clean Technology Fund, but there was no final sealing of the project yet.
"We have been discussing with your government to do a large scale solar power project almost to the tune of 100 MW in the Philippines. So those investment will take in place and other investors will come in to augment those investments," he said.
On the other hand, ADB president Haruhiko Kuroda said there are many low carbon technologies that can bring impressive benefits to the Asia Pacific Region.
"But due to many barriers, from price to intellectual property concerns, these renewable power technologies are not being used in the region. Bringing down these barriers is the next challenge. Connected to that is the funding that will be needed to actually deploy these technologies," he said. (PNA)