Dumaguete City Named one of the World's Top Retirement Destinations

Dumaguete City has been recognized as one of the best places to retire across the globe according to the 2014 Retire Overseas Index released by the Overseas Retirement Letter.
The report stated that this ranking was brought about by the affordable cost of living in the city, tropical climate, warm English-speaking community and beautiful beachfront scenery.
The scoring used for this ranking was based on criteria that are crucial to retirees such as climate.
The local tourism office has recorded a 83.9% growth with 393,718 foreign and local tourists in 2013, compared to the 214,052 recorded in 2012.
According to city tourism officer Woodrow Maquiling Jr the overall number of foreign citizens who visited Dumaguete has also grown, with 80.8% with 47,919 guests compared to last year's 26,504.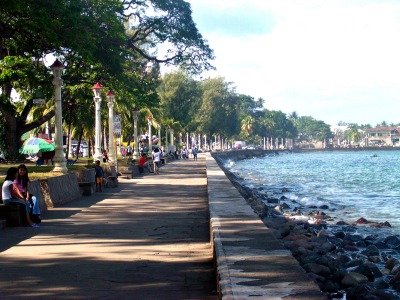 Dumaguete City Named Top Retirement Destination
As monthly foreign arrival levels have been growing compared to the comparative months of 2012, Maquiling said he is highly optimistic this trend would be sustained in the coming years.
The Overseas Retirement Letter reflected Dumaguete City as the second most affordable place to retire with a monthly budget of US$910 next to Nha Trang, Vietnam with a monthly budget of US$680.
The budget were created based on expenses of house rentals, groceries basic utilities such as electricity, phone, water, internet, gas and cable and entertainment expenses.
This has not been the first citation received by the City considered as one of the world's best places to retire.
Maquiling Jr. stated, "This is a testament that indeed Dumaguete City under the leadership of Mayor Manuel Sagarbarria with its world-class ambiance continues to live by the legend of its name, "Dumaguet" meaning "to swoop" or its power to attract and keep visitors.
The City has indeed progressed not merely to attract visitors but also lure its visitors with its charm and splendor to stay, Maquiling added.
Yahoo Finance and US News Money early this year also identified Dumaguete as one of the nine Most Affordable Places to Retire with a monthly budget of $1000.00 obtaining the 4th rank on the list, Maquiling shared.
Their report described the city as, "In addition to its welcoming, friendly, English-speaking people, Dumaguete boasts a warm, tropical climate and lots of opportunities for outdoor activities. It sits right along the ocean, with attractive beaches to the north and south of town. Being knows as the University town, foreigners have the opportunity to make friends with educated professors and aspiring students, take classes and enjoy cultural opportunities not typically found elsewhere in the Philippines, including theater, ballet, art shows and libraries.", the report added.
Forbes.com also featured Dumaguete City as the 5th among the 7 Best Places to Retire around the world.
In its report it defined Dumaguete as a city where one will find "one of the best places for beachfront living on a budget." It also pronounced Dumaguete as inexpensive with great beaches, expats, balmy climate and good health care." (mbcn/JENNIFER C. TILOS/PIA7-Negros Oriental)