The World's Friendliest Islands; Cebu is #2

 




Travelers looking for a serene getaway often take to an island, seeking the solace of sun, sand, and sea. There are a myriad of options to choose from, such as the Polynesian island of Tahiti or, closer to home, North America's Bermuda.

Travelers looking for a serene getaway often take to an island, seeking the solace of sun, sand, and sea. There are a myriad of options to choose from, such as the Polynesian island of Tahiti or, closer to home, North America's Bermuda.

In the annual World's Best Awards survey, Travel + Leisure asks people to score travel experiences across the globe, evaluating everything from cruise lines and airports to resorts, cities, and hotels. When it came to islands, readers scored the best according to characteristics like romantic charm and the friendliness of the people.

Some of the more remote islands dominated this year's list of the world's friendliest, with spots in the Philippines accounting for all of the top four destinations.

While the politics of the nation have grown ever-more volatile, the people of the islands remain friendly to visitors exploring their scenic home. For many travelers, it's especially helpful that English is one of the official languages of the Philippines, and that islanders are so welcoming of tourists.

Favorites like Bali and Bora-Bora also made the top 15, with a couple of European islands in the mix as well. Long-time visitors to Europe who have seen classics such as Capri and Santorini have new reasons to return to the region. This year, the Italian island of Ischia and Paros, in Greece, won over readers with their friendly locals.

Ischia, for example, offers a different kind of island experience than the usual resort and beach-going vacation. This small island is a cozy fishing village, and it is also home to geothermal beaches and baths. Plus, visitors to the island can enjoy the cuisine that the entire country is known for.

Notably absent from this year's list? Any U.S. islands (though Hilton Head in South Carolina did manage to snag the No. 18 spot). Hawaii's Kauai, Maui, Lanai, and the Big Island all dropped off the list, as did last Washington State's San Juan Islands (last year's runner-up) and the No. 1 friendliest island in 2015: Mackinac Island in Michigan.

Travelers in need of a hospitable, personable island retreat should consider this list a definitive guide to the friendliest islands on Earth.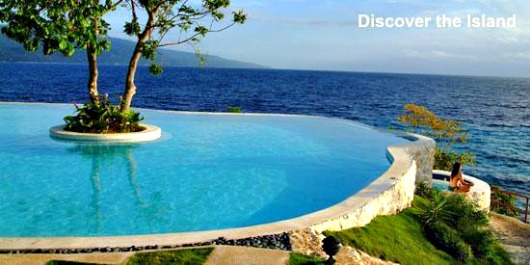 Sumilon Island, Cebu, Philippines
No. 15 Caye Caulker, Belize
Experience nature at some of this Belize island's wildlife sanctuaries — and then chat with residents. "I made true friends with many locals during my time there," said a T+L reader. "All were very friendly and laid back." It's no wonder the island's motto is "slow down."
No. 14 Exhumas, Bahamas
Swimming with the island's pigs is a favorite attraction here, though just as many readers commented on the island's safeness, and the friendliness of the locals.
No. 13 Bora Bora
Come here to scuba dive, or just enjoy a view from a bungalow overlooking the water. Many readers commented on the friendliness, talent, and hospitality of the tour guides and hotel staff on Bora-Bora.
No. 12 Paros, Greece
Forget Santorini this year and try the Greek island of Paros for beautiful beaches and Mediterranean cuisine. One survey taker said the locals will "treat you like family."
No. 11 Moorea
This island, known for its volcanic mountains, is a 30-minute catamaran ride from Tahiti. According to T+L readers, even the stingrays here are extra-friendly.
No. 10 Great Barrier Reef Islands
Come experience some of the world's best nature reserves at the Great Barrier Reef Islands.
No. 9 Bali, Indonesia
Bali is home to some of the most stunning temples, making it the perfect place to retreat for yoga and meditation. It's no wonder the people have mastered laid-back hospitality.
No. 8 Fiji Islands
A long-time favorite with honeymooners, Fiji is made up of 333 islands in the South Pacific. While it scored the No. 8 spot this year, T+L reader Leslie Waters would have placed it at the very top. Waters said it's "an amazing destination with the friendliest people in the entire world!"
No. 7 Tasmania, Australia
"Such a nice, quiet place with a slower pace of life than Australia," noted a T+L reader. This rugged island is also home to a growing contemporary arts scene.
No. 6 Ischia, Italy
Come to Ischia for a cozy fishing village experience, where the emphasis is on excellent seafood, health, and wellness.
No. 5 Waiheke, New Zealand
"The people are delightful," exclaimed one thrilled traveler. Waiheke is also known for its vineyards and olive groves — we see what they have to be so happy about down there.
No. 4 Boracay, Philippines
Settle in at a spa or go diving for shipwrecks at this small island, which is just as beloved for its welcoming people as it is for its undeniable beauty.
No. 3 Luzon, Philippines
Luzon is the largest island of the Philippines, home both to coral reefs as well as the capital of the country, Manila. The island is also extremely diverse, making it a dynamic destination for travelers seeking a rich cultural experience.
No. 2 Cebu, Philippines
Cebu is a former Spanish colony, and people still travel to see the remaining architecture, Of course, the helpful locals are one of the island's greatest qualities.
No. 1 Palawan, Philippines
"People are very welcoming, respectful, and friendly," said one thrilled T+L reader about their experience in Palawan. The island's green-and-turquoise lagoons have long put it on the bucket lists of travelers around the world, and this year it is also the world's most convivial island destination. Jess McHugh / Travel+Leisure