DOT-6 Set to Promote Western Visayas Tourism Through Films for the 3rd Year

After two years of successful holding of film festivals featuring the works of mostly Ilonggo filmmakers, the Department of Tourism (DOT) 6 and its partners are now gearing up for Western Visayas CineKasimanwa 3 in 2015.
The Western Visayas CineKasimanwa is a film festival which supports and promote films and filmmakers from the Western Visayas region. It started in 2013 and is now on its second year. It is being held every first or second week of December.
For 2015, DOT 6 regional director Atty. Helen Catalbas said there will be a new twist to the occasions, wherein all provinces in the region will be made as locations, making the each area's culture, stories, tourist attraction, among others as center of the film.
"This is an attempt at making WV films as vehicle for tourism promotions and marketing. We are going to have this not only for local showing but for international theaters as well," said Catalbas.
The regional director believed that films are not only for artists and the artistically-inclined but for people from all walks of life.
As they gird for the third year of the film festival, the lady director said DOT and CineKasimanwa will convene all tourism officers in the region to a meeting and discuss it.
She projected the film festival to add to the richness of Western Visayans as a people, their being interesting and talented is a shoot-case, with its local costume and tradition put forward for other people to appreciate.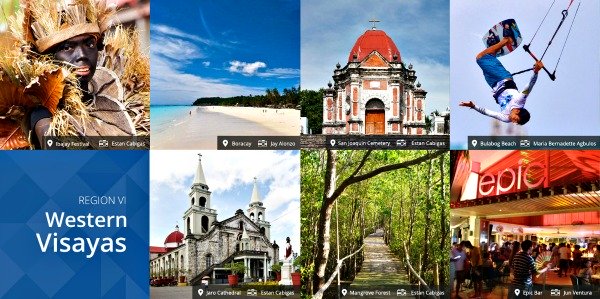 Western Visayas Tourism
"We look forward for CineKasimanwa 3 next year with eager anticipation that more positive things will come out of this with DOT more actively involved as well as the local government units," she said.
Meanwhile, Elvert de la Cruz Bañares, Festival Director and Programmer, said CineKasimanwa was created in partnership with the National Commission on Cultures and Art, Film Developments Foundation of the Philippines and DOT 6 to promote film-making in Western Visayas.
"The festival is more of promoting of who we are, our culture, lifestyles, beliefs, and folklore among others," said Bañares.
Bañares also wished to promote audience development in terms of patronizing the films made by their fellow Ilonggos.
"Our film-makers are going around school every December. We would like to bring in the idea of Western Visayas films, instead of Western films," Bañares added.
During this year's Western Visayas Film Festival held from Dec. 8 to 13 at the SM City Iloilo Cinema 1, among the films which was showcased was the works of the filmmakers from Iloilo were "Gaid", the new film by Tara Illenberger; "Gamhanan" by Joenar Pueblo; "Bantay Salakay" by Reymundo Salao; Malones' Dapya Sang Paglaum, and many more.
Other venues for film showing are at UPV Cinamatheque at the UP Visayas-Iloilo Campuz and FDCP Iloilo Cinematheque at B & C, Iznart Street.
Apart from NCCA and DOT 6, and Film Development Council of the Philippines, CineKasimanwa: The Western Visayas Film Festival is also presented by OLX and the The Negros Museum.
It is also supported by University of the Philippines in the Visayas Cinematheque, FDCP Iloilo Cinematheque, Globe Telecom, Epson, SM Supermalls, SM Cinema, E Unlimited and MTRCB.
Media partners are Business World, Iloilo Metropolitan Times, High Life, The Philippine Star, INQUIRER.net, Business Mirror, Click the City and the Iloilo Media. (PNA) LAP/AJP/GPSOLOGASTOA/VLO/SSC