Higaonon Tribe to Turn Aquatic Weeds to Revenue Resources

In a serene and interior village of Pagalungan, some 45 minutes from downtown Cagayan de Oro City, cradles a Higaonon Tribe community of this city.
The tribal community relies on corn, rice, root crops, bananas, among others for their staple food and from a small lake for tilapia and carp fish supply and a freshwater lobster locally known as ulang.
Datu Rosalino Aguio Manlinombay, the tribal leader of the community, disclosed that the small lake is important to their community because it is the breeding place of thousands of tilapia and carp fingerlings he cultured this year.
It also becomes the source of tap water for washing and bathing of some households living near the lake.
Not only that, the lake in this mining village also grows water hyacinth (Eichhornia crassipes), a free-floating perennial plant with dark green leaf blades which varies from circular to elliptical in shape attached to a spongy, inflated petiole.
The lake is one of the two bodies of fresh water in this city that grows mats of water hyacinth. The other is in urban area of this city; along the silted river bank of Cagayan de Oro River located in Balacanas, Consolacion village.
Threats of water hyacinth
The tribal community did not recognize the imminent threat of the water hyacinth that abound in their lake.
Unknown to the community, the Department of Environmental and Natural Resources (DENR) has considered the aquatic plant as pest and water pollutant as it invades and chokes up waterways causing floods and problems to the locals and the environment.
Further, the water hyacinth provides a growing field for mosquitoes and screens off sunlight that is required by aquatic flora and fauna. Recently, a tribe member who is a Pantawid Pamilya beneficiary disclosed that he has a low catch for months now compared to several years before.
However, he attributed the low catch to the siltation and shallowing of the lake, and not to the spread of mats of water hyacinth over the lake. Studies show that water hyacinth is a very aggressive invader and can form thick mats. If these mats cover the entire surface of the rivers, they can cause oxygen depletion and fish kills. Besides, water hyacinth has no known direct food value to wildlife and is considered a pest specie.
Studies also revealed that with water hyacinth water loss can be as much as 1.8 times that of evaporation from waterways free of these plants; access to sites becomes difficult when weed infestation is present; fish populations decrease as water begins to lose oxygen and sunlight; populations of crocodiles and snakes increase; and in areas where fishermen are barely able to sustain themselves from this industry, this is an economic disaster.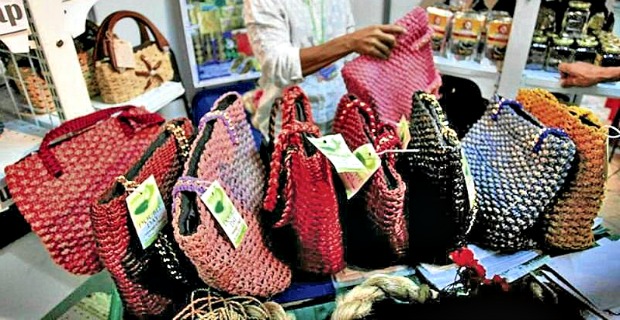 Water Hyacinth Bags
Also, when water hyacinth thrives, it will compete with other aquatic plants. This causes an imbalance in the micro?ecosystem resulting in reduced flora and the fauna that depend on it. Localized water quality also deteriorates which may be harmful to people who rely on the waterway for drinking water.
Making water hyacinth beneficial
Recently, the Department of Social Welfare and Development in Northern Mindanao through the Sustainable Livelihood Program and Pantawid Pamilyang Pilipino Program in coordination with the City Social Welfare and Development of Cagayan de Oro, Department of Tourism, Villar Foundation, Cagayan de Oro Hotel and Restaurant Association (COHARA), and the barangay council of Pagalungan made an ocular inspection at the lake to identify a processing site for dried petioles of water hyacinth which will be waved into mats, bags, slippers and other products.
Nathaniel Palalay II of Villar Foundation made a promise to Datu Rosalino Aguio Manlinombay that they will provide trainings for production and marketing of the finished products of water hyacinth.
The foundation will also provide machines for the processing of dried stalks of water hyacinth for production of baskets, bags, mats, among others to the tribal community.
The Villar Foundation is committed to the preservation and conservation of the environment and ensuring the sustainability of its environmental programs through the establishment of social enterprises that will lead the path towards economic independence for every Filipino.
Datu Aguio Manlinombay said he is happy with the proposed project because women, mostly Pantawid Pamilya beneficiaries, will no longer be idle and be engaged illegally in panning for gold in his village.
For her part, Project Officer Charlita Ladera of the Department of Tourism (DOT) of Northern Mindanao said that they will help in the promotion of the finish product of the Higaonon Tribe.
Nollie Arguelles of COHARA promised to the community that restaurants and hotels in this city will patronize the product of the community and promote these to their clients.
Literature from the International Development Research Center (IDRC) said water hyacinths have been used as raw material for agricultural fertilizers, animal feeds, biogas, paper, board, and even construction materials.
The plant can also be used in controlling water pollution because it is capable of quickly absorbing heavy metals in water.(Oliver Badel Inodeo/RTP/PIA10)