VIP Airport Service, Asia's First, Set to Rise at Clark, Philippines
Clark is the site for a new VIP airport service
The time capsule was laid to signal the start of work on VIP Jet Services Inc, an ultra-modern VIP airport facility for prominent personalities and their private aircraft preferring to have privacy during airport arrivals at the Diosdado Macapagal International Airport (DMIA) at Clark in Pampanga.
The exclusive facility is the first of its kind in Asia and is run by the same family that owns the VIP center in the Van Nuys, California.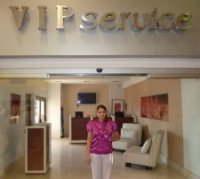 This facility is expected to turn DMIA into an "aircraft hub" for small or regional jets for very prominent people who do not want to go through airport hassles.
Former President Arroyo was delighted when told by Dean Cambe Sr., owner of American-based VIP Jet Services Inc. that it was only during her administration that the company was finally able to get the required permits for its Philippine operations.
"I hope that the incoming administration will share your vision and passion to get foreign investors into the country and that we will be able to go ahead with our plan to operate this facility by the middle of 2012.
Maybe, Madam President, you will continue to support us and help us in our needs," Cambe said during his briefing to former President Arroyo.
Cambe said he has high hopes that the new Aquino administration will similarly encourage them further to do business here.
"I hope the new administration will carry on everything that was started. It is for all of us. If we fail then we all lose," Cambe said.
"At VIP we have aircraft charter services, we fix and fuel the aircraft, we also have aircraft sales," Cambe said.
The first phase of the VIP airport service project is the setting up the P30 million building and then the tooling as well, Cambe said.
Cambe said VIPs and celebrities come in with their private jets and security, we will take them to limousines with the bodyguards.
The VIP facility also has suites where the guests could stay overnight.
Cambe, a Filipino-American, left the Philippines in 1973 and joined the US Navy and now manages several companies in the United States.
His two sons and another American partner are helping him in the project.
The Philippine facility will be the company's largest consisting of 10 hectares. (PIA-MMIO)

<!- BEGIN RSS Buttons -->




[

?

] Subscribe To This Site

<!- END RSS Buttons -->



Return from VIP Airport Service to Home