Kalinga to Launch Village Hopping  Tour Package

The provincial government of Kalinga will launch its village tour package, a one-day scenic drive and camping from Tabuk City to Lubuagan this month
Provincial Tourism Officer Lorrain Ngao-I said the province is inviting 30 participants to join the sample village tour to start at the capitol grounds in Tabuk City in the early morning of September 27.
From the city, the group will proceed to Naneng Village. Along the way be are view .of the majestic Chico River passing by the historical Chico River Irrigation Dam, hanging rocks, road tunnels and village rice paddies.
At the Naneng Heritage Village will be a community tour to include a coffee plantation and the oldest Catholic Church in Tabuk.
Inandila, the village's known native delicacies be served with traditionally brewed coffee.
Lunch wilbe served at the 88 Bangyan Restaurant at Cagaluan, Pasil. The name was derived from the 88 bangyan (giant fern) posts used as pillars for the building. Kalinga native cuisine will be served to complete the 'Kalinga experience.'
The caravan will then proceed to Lubuagan, a scenic village surrounded with rice terraces.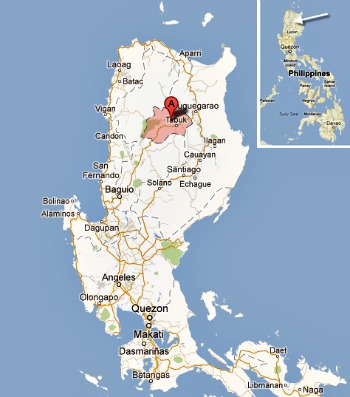 Tabuk City, Kalinga, Philippines
Here the tourists will be visiting the traditional bead makers of Dangoy, weavers of Mabilong and the Fertility Spring to include the old house of the first Kalinga legislator ,Antonio Canao.
Snacks will be served at the view deck of Lilayan.
Another highlight of the tour is a trek or ride going to the Awichon Traditional Village for the night camp where a boodle fight dinner will be served.
The night activities include jamming with the local artists, indigenous instrument playing and traditional dance performances. Basi (locally produced wine) and coffee will be served.
Ngao-I said the package would cost only P1,000.00 to include the food. Participants are however expected to bring their own four wheel drive cars, with tents and beddings for those planning to camp out at Awichon.
On the next day will be an early mass at 6:00 a.m. then the group will go back to Tabuk City after a breakfast.
In line with the theme "Tourism and Community Development", Ngao-I said the activity is also be a strategy for the provincial government to bring tourists to the communities to give a chance for the people to participate in the economic activity of the event through their locally made products and other souvenirs items which they could sell during the day.
It is important she said for the people to understand and appreciate the benefits why the province is investing in tourism so they can get involved and actively participate in the promotion of the province as an eco-tourism destination in the country. (Jdp/ Geraldine Dumallig, PIA-CAR, Kalinga)