Ilocos Sur Makes Raves in World Tourism After Vigan's Wonder-City Tag

The Heritage City of Vigan made waves in the global tourism and historical scene after it earned a spot in the search for the New Seven Wonder-Cities of the world
It was one of the 28 semi-finalists and the only city in the Philippines that qualified in that round. Initially, Cebu and Iloilo were part of the 77 cities around the world until it was narrowed down.
Vigan is not merely banking on its rich heritage, but on the collective effort of its people whose cooperation is behind the city's vast achievements.
Vigan City Mayor Eva Marie Singson Medina has appealed to the Filipinos all over the world to vote for Vigan as one of the New 7 Wonders-Cities of the World.
Votes may be cast online at the New Seven Wonders site. The result of the voting in this level shall be known in July 2014. The entries are trimmed down to 14 finalists and by December 2014, the New 7 Wonder Cities will be declared.
The wonder-cities search is the third global vote organized by the New 7 Wonders and follows the successful New 7 Wonders of the World and New 7 Wonders of Nature campaigns.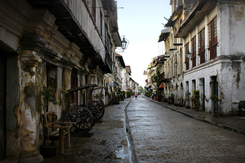 Vigan Philippines
The search is a forum wherein discussions from urban planning to metropolitan governance, tourism to architecture are held.
It also recognizes places that best represent the achievements and aspirations of global urban civilization. It encourages debates about how cities should respond to the challenges of the present and the future.
Vigan is the best-preserved example of a planned Spanish colonial town in Asia.
Its architecture reflects the coming together of cultural elements from elsewhere in the Philippines, from China and from Europe, resulting in a culture and townscape that have no parallel anywhere in East and South-East Asia.
For this, Vigan was named a UNESCO World Heritage Site on December 2, 1999.
Vigan was also UNESCO's "Best Practice in World Heritage Site Management" during the 40th World Heritage Convention in Kyoto, Japan, on November 6-8, 2012.
It bested 27 other entries from 23 world heritage sites. Vigan was recognized for successful and sustainable management achieved with relatively limited resources.
The other cities include Athens, Greece; Bangkok, Thailand; Barcelona, Spain; Beirut, Lebanon; Casablanca, Morocco; Chicago, USA; Doha, Qatar; Durban, South Africa; Havana, Cuba; Ho Chi Minh City, Vietnam; Istanbul, Turkey; Kuala Lumpur, Malaysia; Kyoto, Japan; La Paz, Bolivia; London, United Kingdom; Mendoza, Argentina; Mexico City, Mexico; Mumbai, India; Perth, Australia; Phnom Penh, Cambodia; Prague, Czech Republic; Quito, Ecuador; Reykjavik, Iceland; St. Petersburg, Russia; Seoul, South Korea; Shenzhen, China; and Vancouver, Canada.
Vigan city is also a Hall of Fame awardee as Cleanest, Greenest, and Safest City in Region 1, Best Performing Local Government Unit, Most Child-Friendly Component City in the Philippines; and the National Champion—Gawad Pamana ng Lahi in the Cities Category.(MCA/MNOA PIA1-Ilocos Sur)