Vacation Hotel Cebu

Situated in a central uptown location, Vacation Hotel Cebu provides great rates, a friendly atmosphere, and walking distance to the most popular parts of the city.
It sits directly behind Cebu Doctor's University and is close to several cafes, coffee shops and restaurants.
The hotel is a smaller discount facility that has a wonderful lobby that feels like home! It's a really comfortable place that is relaxing and the staff welcomes you with smiles and kindness.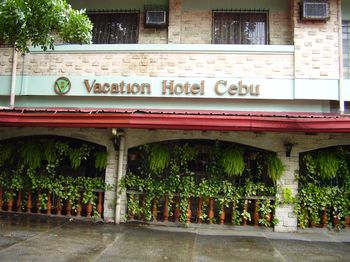 You can hang out in the lobby just like it was your living room at home. There's a small bar and restaurant with a homey feeling.
There's a great garden area in the back of the hotel that provides you with a peaceful place to unwind and relax. It's really a nice backyard enclosure with several different plants and flowers.
Also in the garden area is a nice little pool to relax near and enjoy a dip during the hot weather or in the evening!