Traveling to Philippines Increases in Popularity - 2011 Breaks Record for Tourist Arrivals
New record for foreign tourists traveling to Philippines
Helped by gains in all regional markets, the Philippines eclipsed the previous 3.52-million record for foreign visitors set in 2010 with 3.917 million visitors in 2011, the Department of Tourism (DOT) reports.
"When the industry exceeds expectations as it had done last year, we feel very encouraged. And with the overwhelming response to our new brand campaign launched last month, we know that we have broken ground on crowdsourcing. The people's campaign will help bring more numbers," said Secretary Ramon R. Jimenez Jr.
Even before the new campaign was launched, the initiatives taken by former Tourism Secretary Albert Lim during his tenure have likewise contributed to this milestone. Thus, for the first time in the history of Philippine tourism, total visitor arrivals in the country in 2011 reached 3.917 million -- 11.28% higher than the 3.520 million posted in 2010 and also surpasses by 4.6% DOT's 2011 target visitor arrivals of 3.7 million.
The country capped 2011 with 394,567 tourists arriving in December, strongest among all months last year. But November proved to be the biggest gainer, improving 19.80% from the same month in 2010 with 337,021 visitors. Ten out of the twelve months last year saw figures north of 300,000. The 2011 figure also includes returning overseas Filipinos, who numbered 207,152.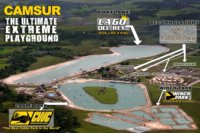 Camarines Sur Water Park
East Asia continued to lead all regional markets with 1,837,681 arrivals, 46.91% of the entire number last year. Korea repeated as the strongest single market with 925,204 arrivals for a 23.62% share of all visitor volume. Elsewhere in the region, Japan (375,496 visitors, 9.59% share), China (243,137, 6.21%) and Taiwan (181,738, 4.64%) ranked 3rd, 4th and 5th among all individual markets respectively, while Hong Kong's 112,106 visitors were good for 9th place. China and Taiwan were the greatest gainers, up 29.71% and 27.58% from 2010, respectively
Visitors from the US, the Philippines' second-largest tourist market, totaled 624,527 for 15.94% of all tourist traffic. Australia and Canada experienced double-digit growth to 170,736 and 117,423 arrivals, 6th and 9th most among all countries.
Meanwhile, Singapore and Malaysia provided the majority of the 331,672 visitors from ASEAN, with which the Philippines expects greater integration in tourism following the 15th Meeting of ASEAN Tourism Ministers in Manado, Indonesia last month. Northern and Western Europe posted near-identical numbers after modest growth with 164,205 and 157,265 arrivals, respectively.
Emerging markets India and Russia continued their rapid ascent, improving 23.89% and 37.86% from 2010 numbers to 42,844 and 20,185 visitors, respectively. The Middle East also remained robust, registering 55,829 arrivals for a 14.60% climb.
With the full rollout of the new "It's More Fun in the Philippines" international campaign by April, Secretary Jimenez remains confident of achieving another record-breaking year. "Our marketing resource has grown exponentially because of other people's contributions in kind. We will continue to build on these positive energies to attract 4.2 million tourists traveling to Philippines this year," the Secretary enthused. (Philippine Department of Tourism)
<!- BEGIN RSS Buttons -->
[
?
] Subscribe To This Site
<!- END RSS Buttons -->
Return from Traveling to Philippines to Home