DOT to Step up Promotion of Tourist Hubs in Western Visayas

The Department of Tourism (DOT) in Western Visayas will step up its promotion of tourism destinations in the four provinces of Western Visayas and Negros Occidental.
DOT Regional Director Helen Catalbas said that this year, marketing and promotion activities such as ground preparation like accessibility, frontline trainings, community tourism awareness and ensuring their attractions are not overexposed will be centered on Iloilo, Capiz, Guimaras and Antique.
She added that Negros Occidental, being part of the Negros Island Region (NIR), will also be included because it does not have a budget yet for tourism promotions.
Catalbas explained that the island of Boracay, being the flagship destination of Western Visayas and the country's tourism capital, has already a "stable market" and most big properties in the island are conducting their own marketing activities abroad.
She assured, however, they would continuously conduct training for the frontline service in the island and to further intensify efforts to entice more cruise ships to visit it.
Catalbas mentioned that Iloilo is the "most ready" destination considering that it has many domestic flights, including regular international flights.
Guimaras, meanwhile is considered as the twin province of Iloilo that tourists usually include in their itinerary when they go to Iloilo.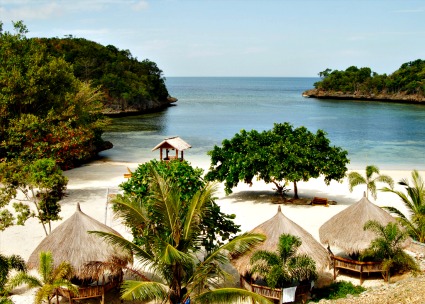 Guimaras, Philippines
Currently, the Iloilo International Airport has regular direct flights to Hongkong and Singapore, vice versa.
"One of the very important factors in gaining tourists is if we are connected to the international market with less travel time," she said.
Also, Catalbas named Capiz as a province with very strong domestic tourism market and Negros Occidental as very strong selling point for chartered flights.
Meanwhile, Catalbas here lauded the successful conduct of this year's Dinagyang Festival. She said that this year's celebration is a fitting prelude to the golden anniversary of Dinagyang in 2018.
She mentioned that they have observed that the attendance of tourists and local visitors increased in this city during the three-day highlights of the festival and gathered good feedback from tourists like the festival was "excellent, spectacular and full of energy."
Around 200 tourists have availed the services offered by the DOT-6 at their Tourist Information and Assistance Center that was put up in front of the Amigo Terrace Hotel at Iznart Street, City Proper, Iloilo City.
Catalbas further said that next year, they might put up additional four or five information and assistance centers in this city during the festival to accommodate more tourists. (PNA) LAP/PGL/CBFERRER/CBF