DoT-ARMM Eyes 15% Rise in Tourist Arrivals in Tawi-Tawi
The Department of Tourism in the Autonomous Region in Muslim Mindanao (DOT- ARMM) expects a 15 percent increase in tourist arrivals in Tawi-tawi this year, after receiving a million visitors in 2016.
DOT-ARMM regional secretary Ayesha Mangudadatu-Dilangalen however said the one million arrivals posted last year by Tawi-tawi could be more since all visitors were not captured by the data gathering mechanism.
She said 15 percent of one million were foreign visitors and the remaining 85 percent were domestic travelers from Luzon, the Visayas and the neighboring provinces and cities of Mindanao.
Dilangalen said majority of the foreign visitors were Malaysians, who come yearly for a pilgrimage to the 637-year-old mosque, the Sheik Karim al Makdum Mosque in Tubig Indangan, Simunul, Tawi-tawi.
The island province is also known for its beaches found in the municipalities of Balimbing, Bongao, Cagayan de Tawi- Tawi, Simunul, Sitangkai, South Ubian, Tandubas, Turtle Island, Languyan and Sapa-Sapa.
Dilangalen said the island is also home to wild cattle, wild hogs, and monkeys of the brown and white variety, and the many exotic fauna abound in the forests of mainland Tawi-Tawi.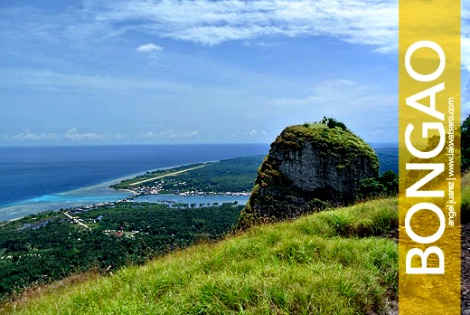 Bongao Peak via www.lakwatsero.com
Lying at the southwestern tip of the Philippines, Tawi-tawi is only a few hours from Sabah in Malaysia.
Tawi-Tawi boasts of natural zoos
She said Sibutu is a place where wild hogs come in bands and also rare birds of orioles, peacocks, and the green, gold and white parrots. Thousands of seagulls have settled at Gusong Reef in Cagayan de Tawi-tawi, where they lay eggs while the Bongao Peak is a monkey sanctuary.
Turtle Island is a sanctuary where a biodiversity project is being undertaken. This can be reached by boat for 17 hours from Zamboanga but only 45 minutes from Sabah.
Dilangalen is calls on the national government to help Tawi-tawi in its development plans.
The province is marketing the place as an eco-tourism destination.
It has a total of 500 rooms and is being served by Cebu Pacific for one flight daily from Zamboanga City.
The province is also planning the expansion of the airport. The Mindanao Development Authority (MinDA), on the other hand, is coming up with a master plan for Tawi-tawi province.
MinDA chair Secretary Abdul Khayr Alonto said the proposal will be submitted to the national government for funding in the preparation of a master plan that will include the development of the area as an economic free zone in support to the tourism industry of the island.
Alonto said the Tawi-tawi infra plan is part of the comprehensive and detailed infrastructure development program that will link the different places of Mindanao through road networks, bridges and ports.
"We wanted to transform the area within the term of President Duterte," he said.
Alonto said there are already interested investors from the Middle East and the Association of Southeast Asian Nations (ASEAN).(PNA)FPV/LCM/DIGNA D. BANZON/LDP