Tourism Infrastructure to Rise in Newly Closed Dumpsite in Legazpi City 
A housing project or even a golf course, recreation center and other tourism related infrastructure projects will be constructed at the newly closed old dumpsite of this city, according to the local chief executive here.
City mayor Noel Rosal said he wants to ensure that the land will be used as part of the developments in the city to benefit its people, especially the residents in the upper portion of the southern villages.
Rosal made the remarks during the three-day gathering and training of environment officers from different parts of the country on the best technology for solid waste management noting the completed civil works for closure of the old dumpsite in the southern part of the city.
The old dumpsite is located adjacent to the engineered sanitary landfill, that was funded by a grant from Spanish development agency AECID (Spanish Agency for International Development Cooperation), in Barangay Banquerohan in the southern part of this city.
Rosal said the rehabilitation and closure of the old dumpsite site, which materialized through a PHp12.6-million grant of the World Bank Global Environment Fund (WB-GEF) to the city, had been a requirement for the implementation of the "Unintentionally Produced Persistent Organic Pollutants" or UPPOP project.
The UPPOP project came about after the global funding body recognized Legazpi City's efforts in properly segregating its solid waste materials and its effective campaign in preventing the open burning of garbage in the communities.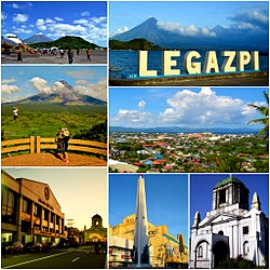 Rosal said the city used the financial grant for civil works of the closure project.
"The civil works included the site preparation, road construction, leach collection system, slope protection, erosion control, flood control, drainage system, gas venting, final capping, aesthetic improvement and landscaping" of the old dumpsite area, he said.
Rosal told the participants of the training that the city government has been implementing a "no segregation no collection policy."
"We want to make sure all the residual waste materials will be deposited at the sanitary landfill as the best way of maintaining the cleanliness in our locality," he said.
He said Legazpi City practices the no burning of garbage in public places, backyards, residences and all other areas in the communities.
Rosal said the measure aims to reduce air pollution that causes serious health problems and destroys the environment.
He said that his administration will continue to implement that proper way of disposing waste materials to maintain the image of Legazpi as one of the best implementers in the Bicol region of the national government's solid waste management program.
Rosal said since inception of the city's solid waste management program in 2010, the City Environment and Natural Resources Office or CENRO has been collecting waste materials from 49 barangays (villages) in the downtown areas of the city.
"But now we have already 57 barangays (in the expanded list) because of the eight villages who have conformed to the city's ecological solid waste collection practices," he pointed out. There are 70 villages in Legazpi City.(MAL/SAA/EPS-PIA5/Albay)