'Fun Caravan' Expected to Develop into a Regular Tourism Product in PHL

What began as a series of regional familiarization trips eventually led to the idea of creating a caravan to showcase a cluster of destinations the country has to offer.
"When Tourism Secretary Ramon Jimenez declared that (this year) will be Visit the Philippines 2015 (VPY2015), we immediately tried to see (how we could contribute to it)," Philippines Tour Operators Association (PHILTOA) president Cesar Cruz said in a press conference on Tuesday.
VPY2015 is an event-centric campaign aimed at strengthening the country's brand image and at the same time helping the agency meet its tourism goals.
Cruz said that after engaging in consultations with its stakeholders, PHILTOA decided that having a caravan would be the best way to shake up both the country's domestic and foreign tourism arrivals.
"This was how the Fun Caravan came about," Cruz explained, referring to the PHILTOA's Islands Philippines Fun Caravan 2015.
"It is a result of a series of regional familiarization trips conducted by PHILTOA for the past three years. Our vision is to make it a regular tourism program," he added.
Fun Caravan, launched by PHILTOA in partnership with the Department of Tourism (DOT), features five major and three minor caravans all designated to promote, reestablish and reinforce tourism activities across the region.
The major caravans include:
* Cordillera's Heritage Warrior Caravan (held last Feb. 4-8), which encompassed San Jose, Santa Fe, Lagawe, Banaue, Bontoc, Sagada and Baguio City.
* Southern Luzon Kulinarya Caravan (March 27-30) that will involve the historical province of Cavite; Alaminos, San Pablo, Nagcarlan, Liliw, Majayjay in the province of Laguna; Lucban, Tayabas, Sariaya in Quezon province; and San Juan in Batangas.
* Visayas Charms Caravan (Aug. 21-27) that will underscore Bohol, Cebu and Boracay, which are among the top tourist destinations especially known for popular beaches.
* Bicol Express Caravan (Oct. 17-22) for Naga, Legazpi, Sorsogon and Misibis Bay.
* Plains and Heights of Central Luzon Caravan (Dec. 11- 17) which will put the spotlight on Pinatubo, Tarlac, Baguio, Pangasinan, and Subic.
Meanwhile, the minor caravans include:
* Rediscover Batanes (March 26-29) for the grandness of Batanes' plateaus.
* Northern Palawan Eco Adventure Discovery Tour (June 19-22) for the lush islands, pristine coastlines and cobalt waters of the Calamines Group of Island.
* Hola! Zamboanga (Nov. 13-16) for the vibrant culture and diverse landscape of the province.
Cruz said that each caravan is designed to provide flexibility in the choices of activities and accommodation in each destination based on the interest and affordability of the participants.
He further explained that participants can choose to bring their own vehicles or avail of the caravan vehicle if the destinations can be accessed via land transportation.
Participants can also avail of the accommodations that will be announced prior to the trip—campsite, lodging houses, hostels or star-rated properties.
In the selection of provinces to visit, Cruz said what was considered was including usual destinations as well as upcoming destinations in the itinerary.
"Upcoming destinations are included in the itinerary for promotion and marketing…eventually the upcoming destination would become a usual destination itself," Cruz said in an interview with reporters.
He said that PHILTOA also considers weather (climate pattern) and a schedule of events such as fiestas in the selection process.
Interactive experience
Tourism Undersecretary for Tourism Development Benito Bengzon Jr., for his part, described the Fun Caravan as "one of the most exciting" activities set for VPY2015 since it provides participants with an "interactive experience."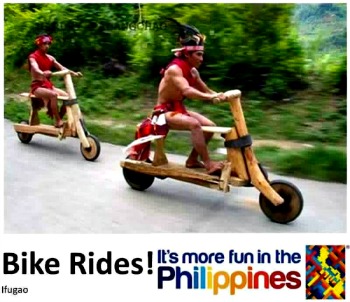 Aside from the activities mentioned, other facets expected to be entailed during each course are a dummy passport to be stamped by participating local government units, mini-trade fairs, festive welcome receptions, among many others.
"It provides an opportunity for participants to have real immersion," Bengzon said since part of the caravan's itinerary is to join community-based activities.
"I've always believed that tourism is not just about counting tourists but more important is to raise livelihood, particularly in a community level and I cannot think of a better project than this one," he added.
Bengzon also stressed the importance of a multi-destination approach in competing with other countries when it comes to tourism initiatives.
"When we were crafting the (tourism) strategy, we wanted to capitalize on the strength of the Philippines and one such strength is our being a multiple destination country," the tourism official said.
"This is partly the reason why we have moved the campaign 'It's More Fun in the Philippines' to (its) next phase, the power branding phase where we go specific destination promotions," he added.
Target market
Cruz said that although the target market for the caravan is still aimed at domestic tourists, PHILTOA is expecting more foreign participants, including balikbayans in the next two years or earlier.
"As we move along we plan to add more destinations," he said. "We are planning to increase foreign tourists participating in the caravan."
"This (caravan) will not just be for this year, this will be a regular tourism product since it's also a showcase of cluster destinations," he added.
The PHILTOA head noted that the advantage of tourists participating in the Fun Caravan versus similar caravans being offered is that the itineraries are crafted by PHILTOA, DOT and local government units.
Another advantage was what it was more budget-friendly since packages available were flexible and reservation can either be coursed through a members of a consortium of travel agencies or through online booking.
Participants will also feel safer as a sweeper, ambulance, and police escort will also be part of the convoy.
While other regional destinations have yet to be covered in these caravans, Cruz said that PHILTOA is also keen on expanding to Western Visayas among other regions in the near future. (PNA) Azer N. Parrocha/SCS