El Nido Ranked 6th in TripAdvisor's Top Rising Destinations

The world's largest travel site TripAdvisor has ranked El Nido in Palawan as sixth top "Destination on the Rise", the only Southeast Asian country on the list.
El Nido became TripAdvisor's sixth Travelers' Choice for the category for being dubbed as the Philippines' last frontier.
TripAdvisor also described the town to be home to "magnificent beaches in an unspoiled setting."
"Why settle for a beachfront hotel when you can stay right over the ocean in a cottage on stilts? And why settle for any old dive site when you can snorkel in an orchid-walled lagoon?" the TripAdvisor article read.
A rundown of destinations on the rise:
(1) San Jose del Cabo, Mexico
(2) Whistler, British Columbia
(3) Jericoacoara, Brazil
(4) Kihei, Hawaii
(5) Baku, Azerbaijan
(6) El Nido, Philippines
(7) Eilat, Israel
(8) Las Pamas de Gran Canaria, Spain
(9) Tbilisi, Georgia
(10) Jodhpur, India.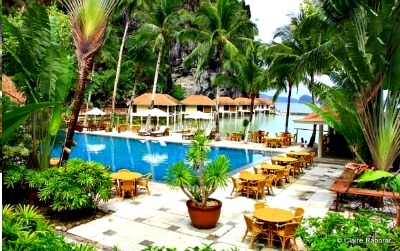 El Nido, Palawan, Philippines
Meanwhile, El Nido's Nacpan Beach ranked 10th under TripAdvisor's "Best Beaches in the World" category for its "long coastline, golden sand, beautiful crystal waters and a completely virgin landscape."
A rundown of best beaches in the world:
(1) Grace Bay in Providenciaies, Turks and Caicos
(2) Baia do Sancho in Fernando de Noronha, Brazil
(3) Playa Paraiso in Cayo Largo, Cuba
(4) Anse Lazio in Praslin Island, Seychelles
(5) Cayo de Agua in Los Roques National Park, Venezuela
(6) Flamenco Beach in Culebra, Puerto Rico
(7) Playa de Ses Illetes in Formentera, Balearic Islands
(8) Ngapali Beach in Ngapali Myanmar
(9) West Bay Beach in West Bay, Honduras
(10) Nacpan Beach in El Nido, Philippines
The Department of Tourism (DOT) meanwhile welcomed El Nido's recent accolade as an affirmation of the agency's efforts to create quality destinations.
"We are very happy with the recognition of El Nido as a destination on the rise, especially as this is based on the unbiased reviews and opinions submitted by TripAdvisor users all over the world," DOT said in a statement.
"The initiatives to enhance tourist experience is reinforced by recognitions like this," the agency further said.
DOT meanwhile expressed hope that more destinations throughout the Philippines would make the best choices for the travelers.
In 2015, El Nido was the top destination in the 20 Most Beautiful Beaches in the World according to US travel magazine Conde Naste.
Palawan has also consistently reaped awards such as being recognized as Conde Naste's Best Island in the World list in 2014 and 2015.
TripAdvisor's 2016 Travelers' Choice ranks hotels, all-inclusive resorts, destinations, destinations on the rise, beaches, islands, landmarks, attractions, museums, and restaurants. (PNA) JMC/Azer N. Parrocha