DOT Makes French Freediving Champ Face of PH Dive Tourism

French celebrity freediver Guillaume Néry has been named as the face of Philippine freediving in a bid to promote the country as a top freediving destination in Asia, the Department of Tourism (DOT) said Monday.
DOT released this statement as Néry, who is also a filmmaker and an environment advocate, has started holding a series of freediving workshops in the country over the weekend.
According to the DOT, Néry conducted his first freediving workshop in Mactan, Cebu last July 15 to 17. Another workshop will be held in Moalboal, on August 4 to 6. The workshops will be held in cooperation with Freediving HQ and Freediving Planet, respectively.
The three-day workshops will be a full immersion with the "Freediving Ambassador for the Philippines" Néry and will cover the basics of freediving -- yoga, deep breathing exercises, complete with practical sessions (dry, pool, and open water practices).
DOT said Néry will also be touring Mactan, Moalboal, Malapascua, Coron, and El Nido and will freedive with Badjaos in Davao as part of the month-long expedition.
A freediving yoga class open to the general public, press conference, film viewing of the most notable works of Néry and his team, and a meet and greet will be staged at Shangri-La's Mactan Resort & Spa, Cebu on July 19 in time of the grand opening of its marine sanctuary.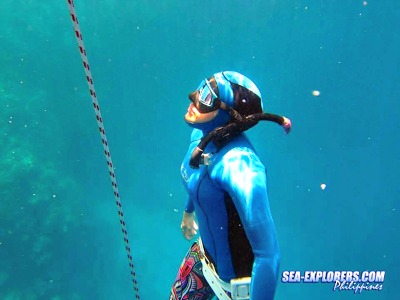 Top Freediving Destination in Asia via sea-explorers.com
He will be also joining the agency in future international dive shows and exhibitions to engage and invite more freediving competitors and enthusiasts.
DOT Secretary Wanda Teo, in a statement, welcomed the presence of Néry in the Philippines.
"To have a world-renowned figure like Guillaume Néry on board is both a privilege and opportunity for the country to position ourselves better in the diving industry of the region," Teo said in a statement.
Teo further stressed that the Philippines is an ideal place to engage more tourists in freediving since its waters are comprised of nearly one million square miles of sea covering major parts of the Coral Triangle which contains more than 2,500 species of fish and over 500 species of coral. (Azer N. Parrocha/PNA)