Tnalak Weaving to Take Center Stage in Planned  Tourism Village in South Cotabato
If plans push through, tourists coming to South Cotabato will be treated to a cultural tour showcasing the entire Tnalak weaving process in a single community.
Cesar Sulit Jr., provincial tourism officer, told local media that the provincial government here is developing Barangay Lamdalag in Lake Sebu as a tourism village for Tnalak, considered as the primary cultural product of South Cotabato.
"It's on record, Lamdalag has the most number of Tnalak weavers in the world; thus, we intend to transform the barangay into a living museum," Sulit said, noting that the village has more than 150 Tnalak weavers.
According to the official, the program has been laid out and the villagers have been consulted regarding the plans.
What is being worked out at the moment, he added, is the social preparations to train the villagers on receiving and educating visitors regarding the Tboli culture, particularly the entire process of Tnalak weaving.
According to the plan, the South Cotabato Arts, Culture, Tourism and Sports Promotion Unit will establish a nursery for Knalum and Loko trees, sources of dyes used in tie-dyeing of abaca fibers.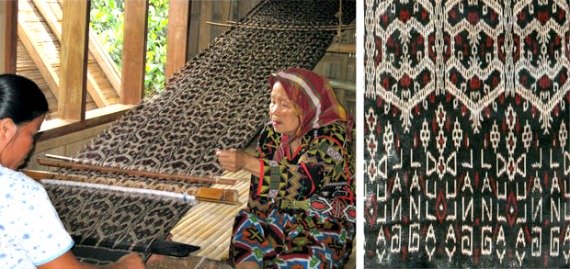 Tnalak Weaving
There will also be separate facilities to showcase the each part of the process from stripping of abaca into fibers, tie-dyeing and selection of abaca fiber, hand weaving to completion of the Tnalak cloth.
"It will showcase how the Tnalak cloth is made," he said. "With that in mind, tourists would know the difficulty of producing the Tnalak cloth and when they buy the Tnalak cloth they will no longer say 'it's so expensive.'"
Other tourism infrastructures such as information center, coffee shop, cultural performance area, and others will also be built in the tourism village.
Sulit estimated that the project will be fully implemented in 2 to years.
Regarding other plans for tourism development in Lake Sebu, Sulit revealed that the provincial government is in the process of seeking permit for the construction of a cable car and tandem zip line at the 7 Falls ecotourism and adventure park.
He said, the cable car will be installed 200 feet above the existing zip line, which is already about 600 feet high. (DEDoguiles-PIA 12)