Masbate's Ticao Island Offers Triple Treat
Looking for a memorable experience this year? Enjoy a triple treat in Ticao island!
First is the Altamar Resort, which is owned by the family of the former mayor of the San Jacinto town -- the Altarejos family.
This serene place was built as a family rest house during reunions but in early 2000, the Altarejos family decided to open the place to the public since it is one of the most visited resorts in Ticao.
It features a huge yellow bungalow castle, which is not a part of the resort service and is exclusively for the family.
For the convenience of those who want to spend the night in that peaceful place, the Altarejos family built air-conditioned cottages with two beds each.
The caretaker of this place keeps the homey ambiance of the place as this is what the owner wants.
Some of the activities offered in the resort are horseback riding, snorkeling and island hopping.
If you don't know how to swim, or if you're afraid to go tan, you can still enjoy the sea by watching the coral reefs and fishes without even diving into the water.
The resort also has a mini-zoo for animal lovers while its fine white sand of the island is perfect for bonfires at night.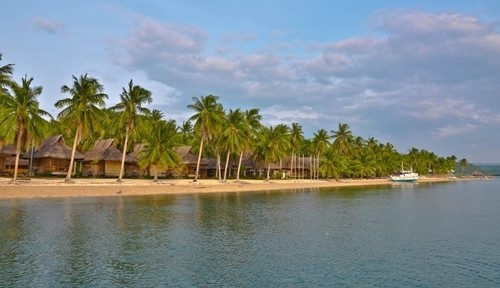 Altamar Beach Resort, Ticao Island, San Jacinto, Masbate
The place abounds with Talisay tress, flowering plants and coconut trees.
Another great place to visit is the San Miguel Island that sparkles with its white sand, green trees and blue clear sea water.
But what make this island unique are the natural blocs of stones forming a pyramid.
San Miguel is located in the municipality of Monreal where the Alibata (the first writing system used by our ancestor) was found.
A third place to see is Matang Tubig which has a cool blue water, attracting so many people who choose to spend their time there during hot season.
It is said that the name Matang Tubig came from the word ice water.
The place is a bit far from the San Jacinto town proper as it will take almost 15 minutes to be there.
It is a spring in the middle of a forest, covered by big trees; nevertheless, this cold spring is still one of the hottest tourist spots in the locality.
Ticao Island is where one can see birds flying from branches of the big trees.
If you're thinking about the budget, the places to visit are not expensive.
Approximately, you would only be spending Php150 for the bus fare from Legazpi City to Bulan, Sorsogon, and another Php120 for the boat ride from the port of Bulan to the port of San Jacinto and vice versa, yielding a total transportation cost of only about Php600.
There are cheap hostels that cost around Php200 per night while there are also hotels that cost about Php1,500 per night.
Come to Ticao Island -- and experience a triple treat! (PNA) CTB/FGS/Therese Vega/CBD/rsm