The World's Best Islands

Tens of thousands of islands dot our planet's oceans and seas. From New Zealand to the Philippines to South Carolina, these are the best of the best. ​
The Philippines are having a moment. This year, three of the top 10 islands in the world, as decided by Travel + Leisure readers, are in this Asian archipelago.
Every year for our World's Best Awards survey, T+L asks readers to weigh in on travel experiences around the globe—to share their opinions on the top cities, islands, cruise lines, spas, airlines, and more. Readers ranked islands according to their activities and sights, natural attractions and beaches, food, friendliness, and overall value.
The Philippines' predominance shows that discerning travelers are willing to travel great distances for the rewards of clear waters and sugary white beaches. "There is never a dull moment in Cebu," said one T+L reader, who claimed the Philippine island, which ranked sixth on the list, is "perfect for travelers who don't want to spend a lot of money on recreational activities." Hiking through canyons, swimming with whale sharks, and diving from the top of a waterfall are just a few of the activities visitors can try.
Only a puddle-jump away is the island of Boracay, which one reader deemed "a natural treasure." The crowning jewel of this tropical destination is Shangri-La's Boracay Resort (No. 8 among this year's Top Resort Hotels in Southeast Asia), which is nestled in a cove and offers guests supreme luxury amid verdant hills and powdery beaches.
Not all the islands on the list are remote or exotic. Hilton Head, off the shore of South Carolina, is all plantation-style architecture, golf courses, and Lowcountry cuisine. And as a key stopover on migration routes, Hilton Head is a birder's paradise.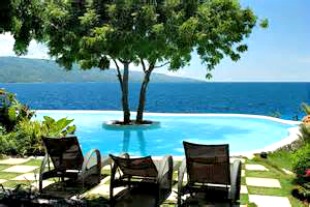 Sumilon Island, Cebu, Philippines
The Hawaiian islands of Maui and Kauai, which appear on the Top 10 list year after year, provide both the allure of faraway lands and the convenience of a domestic getaway. "For me," said one survey taker, "going to Maui is like going home: comfortable, familiar, and beautiful."
With Maui and Kauai's manicured golf courses and upscale resorts boasting triple infinity pools and chic bungalows, it's easy to feel pampered. But the islands' natural attractions play a huge role in their appeal, too. You can watch migrating humpback whales trace the rugged coast, hike up towering volcanoes and across black-sand beaches, or get lost in the lush rain forests that are punctuated by waterfalls and obsidian bluffs.
What all of these award-winning islands have in common, to be sure, is a transcendent beauty and an ability to coax any traveler into a state of bliss.
No. 1: Palawan, Philippines Score: 93.71
No. 2: Boracay, Philippines Score: 90.47
No. 3: Ischia, Italy Score: 90.22
No. 4: Waiheke Island, New Zealand Score: 90.00
No. 5: Santorini, Greece Score: 89.07
No. 6: Cebu, Philippines Score: 88.65
No. 7:Maui, Hawaii Score: 88.55
No. 8: Hilton Head, South Carolina Score: 88.35
No. 9: Kauai, Hawaii Score: 88.33
No. 10: Bali, Indonesia Score: 88.24
Melanie Lieberman - Travel+Leisure