Tboli Primes for Launching of Ecotourism Sites in 2015

The municipality of Tboli in South Cotabato is gearing up for the opening next year of its ecotourism destinations honed to become favorite weekend getaways for the family
Tboli Mayor Dibu Tuan said they are preparing the municipality in anticipation for the influx of visitors.
In June, the LGU closed the 304-hectare Lake Holon to visitors to ensure the proper implementation of its comprehensive rehabilitation and development programs; the closure is expected to last for a year. Entry to other destinations in the area has also been restricted.
"Anytime next year, we will hold a synchronized launching of all our ecotourism sites," Mayor tuan told Philippine Information Agency in an interview, "but first, we want to make sure that the communities, land owners and all stakeholders are aware of their obligations."
Tuan added that they regularly involve communities in dialogues to discuss tourism development efforts.
"These communities should know their role in this entire development process. They should participate because the influx of tourists to our municipality would mean more livelihood and more income for them," he said.
The local chief executive added that they are currently "preparing the technical aspects and documentation of the ecotourism sites. We are also strengthening our policies regarding ecotourism."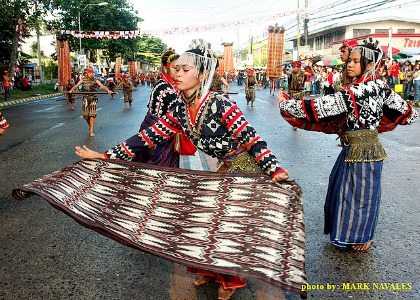 T'nalak Festival T'boli by mark navales via Wikimedia Commons
Besides Lake Holon, named the country's cleanest inland body of water in 2003 and 2004, the LGU is also developing other nature destinations, he said.
These tourism spots include Bakngeb Cave in Barangay Laconon, a 4-kilometer subterranean river; hot spring in Barangay Lamhaku; and Hidak and Hikong Kmebel falls in Barangay Kematu.
It is also developing a preserved Tboli community in Barangay Tudok.
Once the ecotourism activities in the area are reopened, Mayor Tuan assured visitors of other worthwhile undertakings such as "kayaking, water tubing, all-terrain vehicle adventures and many others."
"We want the South Cotabateños to know Tboli as the weekend destination for the family," he said.
In line with its ecotourism initiatives, Tboli LGU started the construction of a 70-foot Tboli monument at the municipal plaza on July 28.
Asked why he pushed for the construction of the landmark, Mayor Tuan replied: "Our Tboli culture has been featured in monuments in other places like Surallah. Sadly, in Tboli where the tribe originates, not a single sculpture has been erected in honor of the tribe and its culture."
The towering monument was designed by renowned artist Kublai Millan who also designed the Tri-People Monument in nearby Surallah town, the Durian Monument at the Davao International Airport, and the giant eagle and Bagobo children sculptures at the People's Park in Davao City.
The Tboli Monument, described at the Tboli LGU's official Facebook account as an "art piece that depicts the rich culture, tradition and history of the Tboli tribe and their harmonious mingling with other non-IP groups in the passing of times," is expected to be completed in the last quarter of this year. (Danilo E. Doguiles-PIA 12)